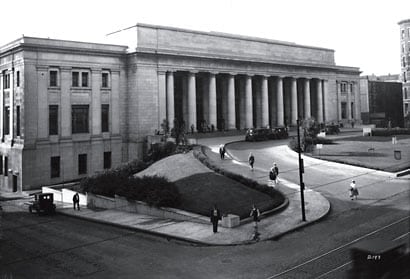 In 1925, the Union Depot was a mere two years old, the granite embodiment of Saint Paul's importance as a rail hub and seat of commerce. More than 280 trains a day stopped here, their 20,000 passengers pouring through the depot's vast vaulted space and out onto Fourth Street to waiting taxis and street cars.
It's been a long time since the Union Depot has served a vital, consensual public function. Closed in 1971 for a small, bus station-like Amtrak depot far west of downtown, the building has since been divvied up into smaller spaces, smaller purposes: a cafe, more recently some condos. This is reuse in the 1970s-80s sense of the term: the domestication of formerly public spaces, the de facto admission that vast public spaces and vast public purposes have faltered and all but died.
We're told this will change soon. The United States Postal Service, which bought much of the depot after it closed, is moving its Kellogg Boulevard operations to Eagan within the next several years. The Union Depot is slated to become a depot once again, this time as the eastern hub of the Central Corridor Light Rail project.
Rail fans envision the reopening of the heavy rail line to Duluth, the return of Amtrak to downtown, the renewal of comprehensive public transportation, that universal social solvent.