New faces and organizational growth for Arcata Press, publishers of the Saint Paul Almanac
Arcata Press, publisher of the Saint Paul Almanac, is pleased to announce the recent hiring of three new staff members to assist in community engagement, fundraising and sponsorship development. We welcome David Unowsky, Deborah Torraine and Robert Smaller, Jr., who are joining us to expand our program outreach, despite the continuing economic challenges common to many nonprofit organizations.
To learn more about our new faces, visit this page.
The Saint Paul Almanac now has a Lowertown office, overlooking the Farmers' Market, at 275 Fourth Street! More on that in our next blog!
---
Flooding in Saint Paul—Then and now
One of the downsides of living by the beautiful Mississippi River is having to deal with floods during the rainy seasons. The Minnesota Historical Society has an amazing collection of images from past floods.
Can the Almanac resist captioning that top right photo, "Flood planes"? Probably not!
As you can see from the above National Weather Service flood preparation graph, the Mississippi river is currently just over 18.5 feet high, with a current predicted crest of over 19 feet. Here are the various "Flood Impacts" designations for different water levels in Saint Paul.
14 feet – Minor Flood Stage
14 feet – Water Street Closed
14 feet – Lilydale Park area begins to become submerged
17 feet – Major Flood Stage
17 feet – Secondary flood walls are deployed at St. Paul airport
17.5 feet – Harriet Island begins to become submerged
18 feet – Shepard / Warner Road may become impassable

Top: Teenagers build dikes in Stillwater. (Courtesy Minnesota Historical Society)
Bottom: Charlie, who lives on the first floor of the Tilsner Building in Lowertown, St. Paul, demonstrates his sandbagging technique in back of the artists' cooperative. (Courtesy James Ramsay)

---
New writing from Patricia Cummings, Tim Nolan, Marianne McNamara and Wendy Brown-Báez
By Patricia Cummings

When the Japanese bombed Pearl Harbor in 1941, I was three years old. Two years later, my silver-haired father, Verne Cummings, was drafted into the Army. He was thirty-five and the father of two. After basic training, Dad was assigned to Special Troops, Headquarters Company, 8th Infantry Division, and spent the next two years in Europe. Dad always said he was assigned to Special Troops because he knew how to run a movie projector. Even though he had never finished high school, Dad was quickly promoted. After the German surrender, Sergeant Cummings led his squad to liberate one of the concentration camps.
By Tim Nolan

My feet are cold—the car
is cold—the car sounds
like a bucket of bolts
Rolling down a hill—
it's so cold that my breath
falls like ice from the roof…
By Marianne McNamara

The year was 1933: FDR had just succeeded Herbert Hoover in the White House, the first episode of The Lone Ranger aired on the radio, Fay Wray co-starred with a giant mechanical gorilla in King Kong, and the chocolate chip cookie had just been invented. The young boy hurried alone through the freezing darkness on his way to Assumption, the old German church on West Seventh Street, where he served daily Mass. It was still very early, barely five o'clock.
By Wendy Brown-Báez

At the writing workshop, I ask the students if they are here because they think writing is important. A couple of them raise their hands. Then I ask if they are taking the workshop because they will receive extra credit, and most of the hands shoot up. I had offered to share my love of language by teaching this workshop at Face to Face Academy, a charter school for homeless youth in crisis, after learning that 70 percent of all teens in foster care end up being homeless for a year or two—foster parents no longer receive help from the government when the child turns eighteen.
---
SUPPORT YOUR HOMETOWN ALMANAC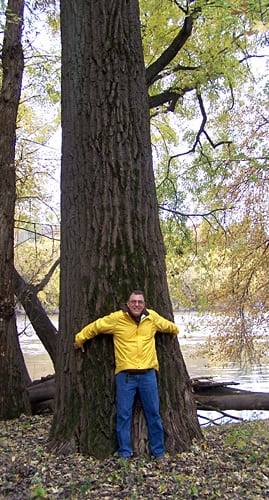 Stay in touch and tell your friends. Please join our email list. Sign up in the red box on the right column of every page on this site. We're also on Facebook and Twitter. Use the share links on this page to let your contacts know about material on our site.
Buy the Almanac. You may have a copy, but do all your friends? Or your enemies? Scientific studies have shown that prolonged reading of the Saint Paul Almanac increases both longevity and quality of life, and reduces general crabbiness! Visit our online store.
Donate to the Almanac. The Saint Paul Almanac builds community through providing forums—in print, online, and at events around the city throughout the year—to share our individual stories. Every year, 2000 students in St. Paul's public high schools receive a free copy of the Almanac. Your donation of $25 will help pay a poet, essayist, or short story writer, or make an almanac available to two Saint Paul Public School students. The Saint Paul Almanac is a 501(c)(3) nonprofit and donations to our mission are tax-deductible. If you love Saint Paul as much as we do, and recognize the value of the Almanac, help us get it out there with a generous donation. Donate online now at https://saintpaulalmanac.org/about/donate