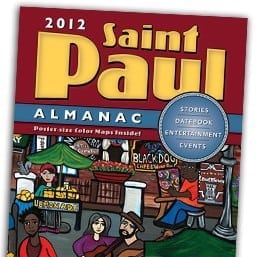 The 2012 Saint Paul Almanac was the winner of the "Travel" category in the 22nd annual Midwest Book Awards.
Each year, the Midwest Independent Publishers Association holds the Midwest Book Awards competition for excellence in books published the year before. The awards recognize creativity in content and execution, overall book quality, and the book's unique contribution to its subject area.
Now in its sixth edition, the Saint Paul Almanac features essays, poems, photos, maps, and listings of events, bars, restaurant, theaters, and other cultural venues within a datebook format. Available in full color for the first time and—another first—includes gorgeous, hand-drawn, poster-size, pull-out maps of the city of Saint Paul and Downtown!
The 2012 Almanac features 129 stories and 180+ photos. Contributors include literary giants, everyday residents, students, journalists, new Americans, and lovers of Saint Paul who live in other corners of the world.