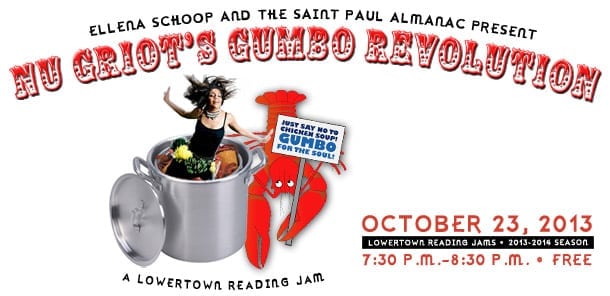 The Saint Paul Almanac is pleased to announce the first in its 2013–2014 season of acclaimed Lowertown Reading Jams, which celebrate the rich literary history of Minnesota's capital city and the widely popular genre of spoken word.
The "NU GRIOT's Gumbo Revolution" Lowertown Reading Jam will be presented on Wednesday, October 23, 2013, from 7:30 to 8:30 p.m. at the Black Dog Coffee and Wine Bar, 308 Prince Street in Saint Paul. This presentation of the popular and eclectic series is hosted by Ellena Schoop.
All ages, no cover, donations accepted. Food and beverages for sale.
About the "NU GRIOT's Gumbo Revolution" Lowertown Reading Jam
Meet writers from the Givens Foundation for African American Literature's Black Writers Collaborative Retreat Program—activists and community artists—as they share their fierce, unapologetic, bold, spicy, and healing works. Stirring DNA threads plucked from Haiti, Nigeria, Brazil, North Minneapolis, the bayous of America, and around the globe into a seasoned and savory word soup, sprinkled with sound and movement. "NU GRIOT's Gumbo Revolution" celebrates voices not just within our communities or our collective—but throughout the land, as we journey, teach, lead, and mentor.
Watch the SPNN Video
About the performers
ELLENA SCHOOP is a visionary and founding member of the Givens Black Writers Retreat Program who is interested in bridging the gap of what is missing. For her, what was missing was a network of  black diaspora writers to collaborate, connect, and support this writing aesthetic. Ellena is a West African dancer, choreographer, poet, and playwright who writes dramatic works with social, economic, and historical subject matter driven through personal characters. She is also a Givens Foundation Literary Artist.
Ellena is also a founding member of Uhuru Dancers in Atlanta, where for fifteen years she studied traditional West African dance from Mali, Senegal, the Ivory Coast, Ghana, and the Caribbean. Ellena has performed at the National Black Arts Festival and has choreographed for Saint Paul–based Steppingstone Theatre productions, including Almost to Freedom, A Lion's Tale, and Ruby. Ellena and Maia Maiden were featured in the 2008 Momentum: New Dance Works annual collaboration by the Walker Arts Center and Southern Theater.
Other projects include her performances of original works, Sal-vay and Justabee, at Patrick's Cabaret.  She was also a playwright mentor for Pillsbury House Chicago Avenue Project and a host of other works. Ellena feels work as artist and activist is never done. A 2004 Playwright Center Many Voices grant recipient, Ellena collaborated and performed in When We Look, a performance work about women, genocide, and the body count of war. She has worked with MaMa mOsAiC on Bride/Price and Black and Blue No More.  www.ellenaplaywright.com
LESLEY NNEKA ARIMAH is originally from Nigeria and relocated to the states in her early teens. She is at work on a novel and a collection of short stories.
MARCUS HARCUS was born in Saint Paul, Minnesota, in 1978 and raised in North Minneapolis. Marcus is a free-spirited family man, writer, equity and justice activist, social entrepreneur, retired ninja, and world traveler.
HAWONA SULLIVAN JANZEN is a Saint Paul–based poet and nonfiction writer. A native of Shreveport, Louisiana, Hawona's work focuses primarily on the emotions inherent in the human experience—especially  grief, loss, and love.
KIMBER LOVE is a writer, poet, and spoken word artist whose passions are found in the depth of her writings and performances. She was a 2008 participant in the Givens Foundation Black Writers Collaborative Retreat Program and a winner of the National Poetry Awards' "New Upcoming Poet" in 2012. Kimber resides in North Minneapolis and is currently studying music business at Minnesota School of Business.
MIRÉ REGULUS is a mover, writer, and theater performance artist. In 2009, she was a recipient of Pillsbury House's Naked Stages grant, and she created work for Laurie Carlos' Late Nite series in 2011.
SEMERIT STRACHAN is fascinated by the miracle of being in Body. Besides being a physician and health coach, she enjoys writing, painting, and the transformation made possible through deep connection. www.askdrstrachan.com
KIRK WASHINGTON is a multidisciplinary artist whose literary focus is on the way language informs and guides us culturally. He is from North Minneapolis but has lived and worked throughout the country and the world.
WISDOM YOUNG is a writer, an educator, and a mother. She holds a bachelor's degree in Sociology, Law, Criminology and Deviance, and a minor in African American Studies. Wisdom is inspired by God, her people, and the power of words.
LORI YOUNG-WILLIAMS comes from a working class family that believes in laughter, crying, and praying when times are good, bad, or otherwise. She earned a Master of Liberal Studies from the University of Minnesota in 2011, focusing on Black Women and the Great Migration—in particular the migration her paternal grandmother undertook with her family, from Allendale, SC, to Philadelphia, PA.
Location
The "NU GRIOT's Gumbo Revolution" Lowertown Reading Jam will be presented on Wednesday, October 23rd, 2013, from 7:30 p.m. to 8:30 p.m. at the Black Dog Coffee and Wine Bar, 308 Prince Street in Saint Paul. Download the poster here.