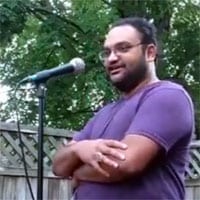 To celebrate the launch of the 2014 Saint Paul Almanac, Cracked Walnut, with sponsorship from the Saint Paul Almanac, put together 25 daily readings from September 18th to October 12th, 2013.
Each reading featured an average of five writers and poets who were published in the Saint Paul Almanac, and took place in a different location around the city to enable more people to attend from our neighborhoods and introduce our regulars to new watering holes.
Most of the writers who took part are published in the 2014 edition of the award-winning Saint Paul Almanac. Cracked Walnut's Satish Jayaraj also invited previous Saint Paul Almanac contributors and other writers to take part in the Saint Paul Literary Festival.
Many thanks from the Almanac to Satish for his amazing work in putting together 25 readings in 25 days!