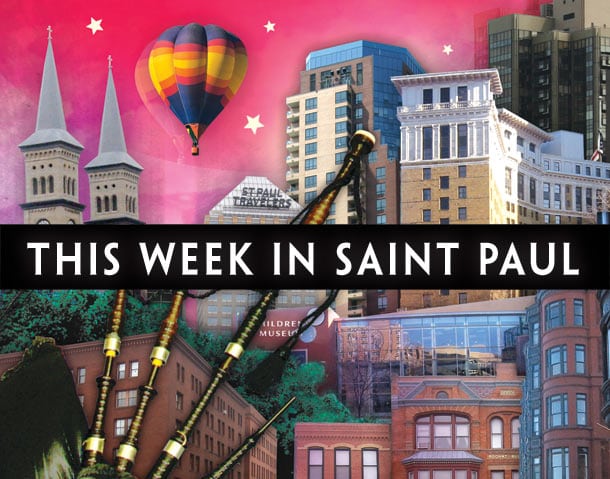 Welcome to the Saint Paul Almanac's "This Week In Saint Paul," a new feature to help you engage with our city's varied and vibrant literature and art events. Each week, we will highlight a few happenings around town, but remember to check out the Almanac Calendar for our full listings.
Commercial interests launched the holiday season long ago. For most of us, the week before Thanksgiving is when things start to get busy. As always, the Almanac has some ideas for what to do—to keep your days looking more like your Saint Paul and less like a shopping mall.
Readings and Literature
In the coming weeks, a few local authors will be showcasing works that tell the histories of some of the area's trademark institutions and landmarks.
When Macy's recently vacated Downtown, many were reminded of the Dayton's department store originally located in the same building. On Tuesday, November 26, at 7:00 p.m., author Kristal Leebrick will discuss her newly published local history Dayton's: A Twin Cities Institution at Micawber's. In this work, Leebrick chronicles a century of the store and the family behind the tradition. Micawber's is at 2238 Carter Avenue in the Saint Anthony Park neighborhood.
On Black Friday, November 29, Common Good Books will host noted poet Heid Erdrich speaking about her new cookbook, Original Local: Indigenous Foods, Stories, and Recipes from the Upper Midwest..
Author Beth Dooley wrote, "In this remarkable cookbook, Heid Erdrich shares her deep knowledge of indigenous foods and original recipes that make me want to read and learn as well as cook." You can visit with Heid and hear about her new book, which blends traditional American Indian ingredients and creative contemporary fusion. This event is at noon. Common Good Books is located at 38 South Snelling Avenue near the corner of Snelling and Grand Avenues.
Music
This week is full of great music with many opportunities to experience something wonderful. Picking one or a few would be good for your soul and sense of variety. Here is a taste of what our capital city has to offer.
On Monday, November 25, the Other Country Ensemble appears at the Black Dog Coffee and Wine Bar. Looking at their events calendar, maybe the name should be "Black Dog Coffee, Wine, and Music Bar." A monthly regular to the Black Dog series, the Other Country Ensemble plays country music from various regions around the world as well as improv jazz. Check here for more information. The show is at 7:30 p.m., and the Black Dog is located at 308 Prince Street in Lowertown.
The Saint Paul Public Libraries are sponsoring a series called "Musical Notes from Europe." Sunday, December 1 marks the last of this series, A Musical Tour of Eastern Europe with the Balalaika Orchestra. Held at the Saint Paul Central Library, you can mingle with the musicians and learn about the different musical instruments they use. The event starts at 2:00 p.m., but seating is limited so come early. The Central Library is located in Downtown, at 90 West 4th Street.
When someone mentions the name Kevin Kling, you don't usually think of music. Kling has been accompanied by some of the area's best musicians, however, and he is quite busy this weekend. On Friday, November 29, and Saturday, November 30, at 8:00 p.m., and on Sunday, December 1, at 2:00 p.m., Chastity Brown joins Kling for "Gulliver Unravels" at the Fitzgerald Theater. Gulliver Unravels is a "unique program that takes on the classic tale of Gulliver's Travels by Jonathan Swift mixed with fact and fiction." It is said that Brown will mix in songs from her repertoire, including Irish folk, and the show features musical direction from Dan Chouinard and Brown's band. The Fitzgerald Theater is located at 10 East Exchange Street in Downtown.
Festivals & Special Events
Also, there will be a lot to see and do at the Minnesota Hmong New Year on Friday, November 29; Saturday, November 30; and Sunday, December 1. Once again co-sponsored by Lao Family Foundation of Minnesota, this is a community showcase of talents on the main stage in the Roy Wilkins Auditorium. Each year, the event features folksong, traditional Hmong dancing, Bollywood dancing, modern dancing, and more! Check out details at the Lao Family Community website. The Legendary Roy Wilkins Auditorium is at 175 West Kellogg Boulevard.
Finally, Highland Park Library is getting a major face-lift. On Sunday, December 1, check out the Siesta Fiesta at the library, 1974 Ford Parkway. This will be the last event before the library closes for renovation and will include face painting for the kids, live guitar music for everyone, refreshments, and a special library scavenger hunt. The event runs from 1 p.m. to 5 p.m.
Remember: you need a break, and the kids do not want to go shopping!
Theater
Following Thanksgiving, Park Square Theatre will showcase Saint Paul resident and Penumbra Theatre mainstay T. Mychael Rambo in WORDS BY… Ira Gershwin and the Great American Songbook. Go for a great night of singing, swinging, and a dash of learning. A hit song needs both great music and great lyrics, and you won't miss the Christmas carols for one night. The run starts the night of Friday, November 29, and has several shows through the weekend. Check the link above for details.
Family Events
As mentioned above, Kevin Kling is busy. Before the show at the Fitz on Saturday, Kevin will appear with Chris Monroe to present their new children's book, Big Little Mother, at Addendum Books for Young Adults and Children, 165 Western Avenue North, in the back of SubText, under Nina's. They will be there at 1:00 p.m. before Kevin runs over to the Fitz.
It is also a busy day for Addendum. All day Saturday, November 30, the store will host sixteen authors, who will meet customers and sign books as part of the Indies First program. Participating authors include William Alexander, Nancy Carlson, Catherine Clark, John Coy, Brian Farrey, Kevin Kling, Chris Monroe, Mary Losure, Carrie Mesrobian, Laura Purdie Salas, Kurtis Scaletta, Pat Schmatz, Lauren Stringer, Stephanie Watson, and Jacqueline West. The event runs all day.
Every Saturday the Central Library presents Saturday Live!. Saturday, November 30, features local musical artist Ross Sutter. Enjoy children's music from America and Northern Europe with accompaniment on the guitar, accordion, dulcimer, and bodhrán. Sing and dance along in this interactive program. The program starts at 11:00 a.m.
Also on Saturday, November 30, bring your favorite stuffed animal and join Zip the chipmunk, Chester the koala, and Pinky the mouse in The Stuffed Animal HOLIDAY Show at Dreamland Arts. Leslye Orr and family co-host this interactive theater experience for children and their stuffed animals. This is a pay-what-you-can event that starts at 11:00 a.m. Dreamland Arts is located at 677 Hamline Avenue North.
Remember, for more great events, check out the Almanac's arts calendar. See you around town!