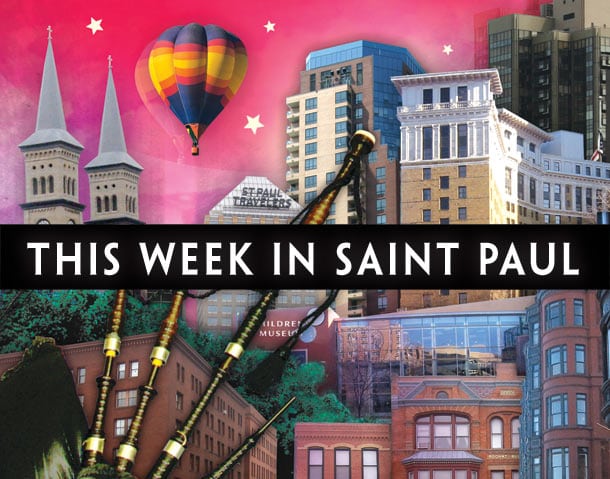 It is supposed to warm up this week, and many of us will show more courage venturing out into the world without the sharp cold that nipped our noses last week. We have lost our excuse to sit inside, and this week's arts calendar shows us we can't be caught saying, "There's nothing for me to do." In part, thanks to three remarkable women of words and letters, and some other talented neighbors, we will not be bored.
Books, Literature, and Readings
Who is the hardest-working woman in Twin Cities literature? We have to give kudos again to Saint Paul Poet Laureate Carol Connolly for the latest in the "Reading by Writers" series. Last week, she was at SubText reading her own work, but this week she is happy to shine the spotlight on some of our many other talented poets. On Tuesday, Dec. 17, "Reading by Writers" features Heid Erdrich, Tim Nolan, Eleanor Leonard, Jim Lenfestey, Klecko, Ted King, Mary Lou Judd Carpenter, Laurie Hertzel, Mike Finley, and Tom Cassidy. Carol offers a nice prelude to this stellar lineup, with music by violinist Mary Scallen and flutist Jim Miller at 7 p.m. followed by the reading at 7:30 p.m. The event is at the University Club, 420 Summit Avenue. Writers' books will be for sale. Remember, books make great gifts and are easy to wrap!
The day following the big event at the University Club, a poet who might be the next hardest-working woman in the Twin Cities will follow her appearance in Carol Connolly's "Reading by Writers" event to curate this month's Lowertown Reading Jam, "Double Hungry: Sustainable Poems." For the Jam on Wednesday, Dec. 18, Heid Erdrich has assembled a team of poets from diverse cultural and literary backgrounds who will discuss food in a changing world. Erdrich's new book is Original Local: Indigenous Foods, Stories, and Recipes from the Upper Midwest. Featured poets are G. E. Patterson, James Autio, and Kristin Naca. As always, this event will be at the Black Dog Coffee and Wine Bar, 308 Prince Street in Lowertown.
On Thursday, Dec. 19, make sure that you check out a special edition of "Soul Sounds Open Mic," hosted by the third of the hardest-working women in Twin Cities literature, and spoken word, Tish Jones. Soul Sounds Open Mic's "HIV/AIDS Awareness Mic" will "focus on addressing HIV/AIDS in our various communities. Perhaps you have written a piece paying homage to a loved one who lost their battle with HIV/AIDS? Maybe you have a poem of encouragement, a song that educates, or more?" Bring your poem or spoken word piece to share. Come and join this community of artists who dialogue on what's happening with our human family.
About this time of year, you may have had it with long lines and way too many people. I know. I made the mistake of thinking I could get a deal on some school clothes for my son with coupons to a couple of noted establishments at a noted mall. The long walk from the outer edges of the parking lot was refreshing, amid the lines of cars waiting for better parking spaces that would save them 40 steps or 30 seconds, but which sadly did not exist. It was almost a relief to find that there was nothing worth spending our money on, coupon or not.
Still, in this busy season, there are some places worth standing in line for. One place is SubText and the event is a signing by Kevin Kling. Kevin, Minnesota's premier storywinder, will be at the store on the afternoon of Sunday, Dec. 22, with his new book On Stage with Kevin Kling. This is a collection of three of his finest works, 21A, 21A, Ice Fishing, and Scarecrow on Fire—as well as excerpts from Of Mirth and Mischief and Back Home and more. The signing and author conversation is well worth braving a crowd. Come change your holiday attitude on Sunday at SubText: A Bookstore at 165 North Western Avenue. The event begins at noon.
Music
The power of music and the power of the word are on striking display whenever Lisa Brimmer and High Society are "in the house." Lisa Brimmer is a poet, spoken word artist, and playwright. She and her band High Society have been a part of the hip-hop and jazz circuits that have been featured on MPR, KFAI, and KBEM. High Society is a largely improvisational jazz-centric group. They are regulars at the Black Dog Coffee and Wine Bar and will share one of their not-to-be-missed experiences on Tuesday, Dec. 17, at 7:30 p.m. The Black Dog is at 308 Prince Street in Lowertown.
On Friday, Dec. 20, singer-songwriter Heather Masse will be featured in the latest Red House: Live from Landmark Center. Masse has gained fame for her composing talents and her "lush velvety vocals." Trained at the New England Conservatory of Music as a jazz singer, she has an ear and voice that allow her to create distinct folk, pop, and bluegrass tunes. This event is at 7 p.m. in the F. K. Weyerhaeuser Auditorium of Landmark Center, 75 West Fifth Street, across from Rice Park, downtown.
Also on Friday, The Rose Ensemble will be at Nativity Catholic Church with their holiday program "And Glory Shone Around: An Early American Christmas." This offering surveys 300 years of American music and includes "Shaker hymns, Colonial country dances, Kentucky harmonies, and joyful seasonal carols from across the North American landscape." Nativity is at 1900 Wellesley Avenue, and the event begins at 8 p.m.
If you are in the mood for something completely different that evening, head back to the Black Dog for the Donald Washington Quartet. Renowned jazz saxophonist, reed instrument player, and teacher Donald Washington will be joined by Eric Jacobson on tuba, Brian Roessler on bass, and Kevin Washington on drums. The show starts at 8 p.m.
Holiday Performances
T
he Actors Theater of Minnesota has two productions in their final week approaching the holidays. The first is "A Tuna Christmas." This holiday comedy is set in "the town of Tuna, the 'third-smallest' town in Texas, where the Lion's Club is too liberal and Patsy Cline never dies." A Tuna Christmas runs Thursday, Dec. 19, through Sunday, Dec. 22. The Actors Theater is also staging "The Comedy Roast of Mr. Scrooge." If you ever wondered what the characters of A Christmas Carol would say if they got the chance, you'll find a few answers here. Roast runs Friday, Dec. 20, through Sunday, Dec. 22. Performances are at Cabaret Theater in Camp Bar, 490 North Robert Street. Check the company's website for dates and tickets, www.actorsmn.org.
You can get a taste of Christmases past with the current production of the History Theatre's Christmas of Swing. This musical treat features the work of The Andrew Sisters who are remembered as the voices that lifted the spirits of 1940s audiences and America's soldiers with shows full of Christmas songs, swing tunes, and a little "Boogie Woogie Bugle." Check for show times and dates HERE. Performances run through Tuesday, Dec. 24. The History Theatre is downtgown at 30 East Tenth Street.
One of Saint Paul's favorite traditions is Ballet Minnesota's production of The Classic Nutcracker. This Twin Cities premiere ballet company enlists the skills of their professional company and students to create a spectacle of dance and music. These annual performances, now in their 26th year, run Friday, Dec. 20, through Sunday, Dec. 22, and are held in their usual venue, The O'Shaughnessy Auditorium on the campus of St. Catherine's University, 2004 Randolph Avenue. Check HERE for show times and tickets.
Union Depot is turning into one of our great public spaces—a venue for public, interactive art and fodder for our wanderlust dreams. In this busy weekend before Christmas, treat yourself to a movie or two—or three. Union Depot is hosting its annual Holiday Movie Night. They are offering a great triple feature on the night of Saturday, Dec. 21, starting with a family favorite, Home Alone at 4:30 p.m. The projectionist will follow with National Lampoon's Christmas Vacation at 7 p.m. And for die-hard movie buffs, at 9:30 p.m., Die Hard itself will hit the screen (I had never thought of Die Hard as a holiday movie, but I guess contrived context means everything in Hollywood). Admission for this event is FREE and concessions are available until 10:30 p.m. from Prom Catering. See you at the movies!
Remember, there are also holiday shows playing at SteppingStone Theater, the Historic Mounds Theatre, and Penumbra Theater.
Around Town
In an endeavor dear to the Almanac's heart and soul, Galtier Community School's CuratorKids Project opens at Groundswell coffee shop. A group of fourth and fifth graders at Galtier Community School will have mixed-media collages and poems on display at Groundswell in the Hamline Midway neighborhood. Galtier students were recently part of a two-week residency with the Minnesota Museum of American Art called CuratorKids, during which they created original poetry and mixed-media collages in response to their interpretation of a particular piece of artwork.
The students' work will be displayed from Monday, Dec. 16, through Sunday, Jan. 19. An artists' reception will be held for fourth graders from 2:00 to 2:30 p.m. on Monday, Dec. 16. A reception for fifth graders will be on from 2:00 to 2:30 p.m. on Tuesday, Dec. 17. Groundswell is at 1340 West Thomas Avenue. Go support these young, emerging artists and curators and their entry into the community of the arts.
Need something to do to extract yourself from the holiday hustle? Why not head over to Ax-Man to join the Snails' Trails: Tales from the Rails public art project sponsored by Irrigate Arts along the Central Corridor? Here you will find a display of ceramic snails for the taking. Take a snail and place it anywhere along your trail. Snap a photo and post it online along with a story or caption. Watch for news from your snail as it is found and moved and photographed again with a new story to tell. Pick your ceramic snail, hand-fired by Amy Joy Hosterman, and see where it travels. Ax-Man Surplus is at 1639 University Avenue.
Okay, you've had enough fun for the week. We will see you next week for some more enjoyable and enriching ideas—and maybe a little mischief. Stay warm! Full event listings can be found on the Almanac Arts Calendar at www.saintpaulalmanac.org/saint-paul-calendar/.