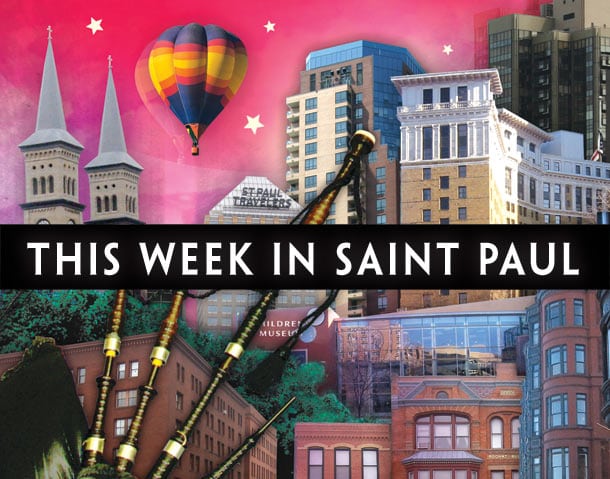 One of the reasons that Saint Paul has a snow emergency protocol different from that of Minneapolis is that so many of the cross streets in many parts of town do not have houses or other buildings with numbers on them. This means that knowing which side of the street is "the odd side" can be tricky. This is why I was a little surprised when, Thursday evening, the city told us that the odd side of streets is where we must park on many roadways in town until further notice—just like Minneapolis. This means many of us have to move our cars. To where? Well, since you asked, we have a few ideas this week.
We are women and men of words and letters
It might be that you did not get enough from Saturday's open mic poetry slam at SubText or at Thursday's Soul Sounds Open Mic or the night before at the Black Dog for February's Lowertown Reading Jam. Maybe you have been catching some of the Be Heard MN Youth Poetry Slam Series.
Don't worry. There is more from all of those places. You also might want to check out another venue on Monday, March 3. Head over toCAMP Bar for the Soap Boxing Poetry Slam. The now-closed Artists Quarter used to be the place for spoken word on Mondays. I'm not sure if this will be a new tradition, but it looks like a few of the AQ regulars will be making their way to this new site. CAMP is at 409 Robert Street in downtown. The event begins at 7 p.m.
The next two events are for projects that I cannot help but think received their momentum from the object of the only celebrity crush I've had since junior high. The subjects of Doris Kearns Goodwin's two most recent books are Abraham Lincoln (Team of Rivals: The Political Genius of Abraham Lincoln) and Theodore Roosevelt (The Bully Pulpit: Theodore Roosevelt, William Howard Taft and the Golden Age of Journalism). Doris tells us a lot, but did you know that Abe Lincoln was quite the cook?
In Abraham Lincoln in the Kitchen: A Culinary View of Lincoln's Life and Times, Rae Katherine Eighmey undertakes a kind of culinary archeology that includes discoveries of the sixteenth president's grocery lists, to give us a snapshot of the man, his hospitality, and the times in which he lived. Eighmey will be at SubText: A Bookstore on Wednesday, March 5. The event begins at 7 p.m. SubText is at 165 North Western Avenue in Cathedral Hill.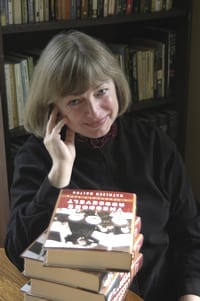 On Saturday, March 8, the Minnesota History Center will host a presentation from author and scholar Kathleen Dalton, History Forum How Radical Was He? The Contradictory Politics of Theodore Roosevelt Dalton is the author of Theodore Roosevelt: A Strenuous Life. The presentation asks, "Was Teddy Roosevelt a radical? How much did his words and policies impact the nation's future?" We can decide for ourselves. This event will occur at 10:00 a.m. and again at 2:00 p.m. The History Center is at 345 Kellogg Boulevard.
Theater
Last month, SteppingStone Theatre had a great run of the show "The Black Snowman" to celebrate Black History Month. This month, they are staging another important production, Bully. "Bully" was created by six young Twin Cities playwrights aged 15 to 19, and six more from Action Transport Theatre in Ellesmere Port, England. These young people have brought talent fostered by SteppingStone's Young Playwrights program and some of the most difficult and painful experiences that they and their peers have lived through the generations. They are telling their story with skill and humor, offering a personal and heartfelt exploration of bullying. The production starts Friday, March 7. Check here for dates and show times. SteppingStone is at 55 North Victoria Street.
On Saturday, March 8, and Sunday, March 9, Dreamland Arts is hosting Starting Point, a production that includes a series of new one-acts, music, monologues, and more. I cannot tell you what gems you will find here, but Dreamland expects a lot of emerging voices and fresh ideas from this show presented by Dual Theatrics. The variety will provide something for everyone. Saturday's show is at 7:30 p.m. and Sunday's is at 3:00 p.m. Dreamland arts is at 677 Hamline Avenue North.
The young set
Both of the theater productions, "Bully" and "Starting Point," are good shows for youth preteen and older. This is a fine week for some other cool events as well.
On Tuesdays and Wednesdays in March, the Saint Paul Public Library is sponsoring events from the sound art duo Beatrix*JAR. "Let's make some sounds!" is a hands-on session for teens where participants join a series of audio jam sessions, using unique and innovative circuit bent instruments. Bring your own unique musical voice and help create live recordings that will be posted online. The Tuesday sessions start on March 4 and go through March 25 at the Rondo Community Outreach Library at 461 North Dale Street (at University Avenue). Wednesday sessions are March 5 through March 26 at the North End Teen Zone, 1041 Marion Street. Each event starts runs from 4 p.m. until 6 p.m.
On Thursday, March 6, Cecil Castellucci will be at the Red Balloon Bookshop with her new book, Tin Star.
In it, the protagonist, Tula, is stranded and left alone on a remote space station among human-hating aliens. For this book the author spent time at LaunchPad, a NASA-funded workshop that teaches writers of science fiction about the most up-to-date and correct space science.
Castellucci will be on hand to discuss her book as well as the LaunchPad program. Girls in space does not mean "Barbarella." (Kids, ask your parents if you need a cultural reference.) Stop by the Red Balloon at 6:30 and get inspired! The Red Balloon is at 891 Grand Avenue.
Music
The Lyra Baroque Orchestra is one of the Resident Ensembles at The Baroque Room. They use period instruments to perform seventeenth- and eighteenth-century music from the Baroque period. An ensemble of dedicated educators, they provide many opportunities to access this rich music. This week, they offer two free-admission performances. The first is Thursday, March 6, at 7 p.m. As part of their Lyra Masterclass Series, they will be joined by Jaap ter Linden, playing baroque cello. On Sunday, March 9, at 4 p.m., they present an edition of their Lyra Family Concerts: Early Music Day. Both events will be at The Baroque Room, 275 East Fourth Street, Suite #280, in Lowertown. Both events are free, but if you want to attend Sunday's performance, it might be good to contact the Saint Paul Conservatory of Music at 651-224-2205 or visit www.thespcm.org.
On Saturday, jazz drummer Eric Kamau Gravatt will be with his group Source Code at Studio Z for a 7 p.m. concert, preceded by a 6 p.m. workshop for those interested. Gravatt was the drummer for the group Weather Report in the mid-1970s and played with McCoy Tyner. He has been the subject of wide praise and is willing to share his craft in pedagogy and performance. Tickets for Eric Kamau Gravatt & Source Code can be purchased at the door or at the Studio Z web site here.
Art openings
On Thursday, March 6, Lowertown's AZ Gallery will open its doors for the opening reception of the Les Farrington Best 100 Juried Art Exhibition. Featured in this show are the works of Saint Paul–area high school students who submitted their original artwork to be judged by a panel of three jurors from the art community. This is the fifty-sixth year for this competition, which is sponsored by the Saint Paul Jaycees. The event, which also offers $4,000 in scholarships, begins at 6:30 p.m. The AZ Gallery is at 308 Prince Street on the first floor of the Northern Building in Lowertown. Come out and support these great young artists.
Of course, there is so much more going on, and if you want to be smarter about all those things than I can be in this small space, be sure to visit the Almanac arts calendar. If you are wondering why you still live here, in this weather, you'll find at least part of the answer here.