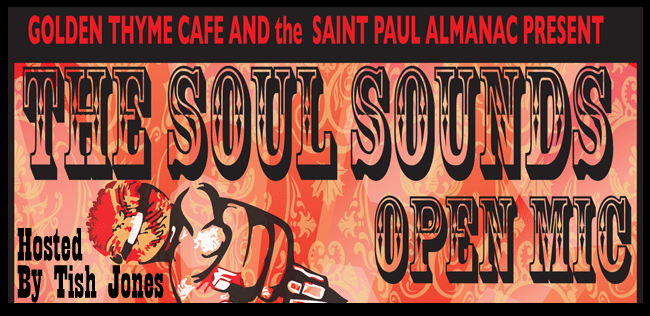 The Golden Thyme Coffee Café and the Saint Paul Almanac are pleased to announce the "Soul Sounds Open Mic," hosted by Tish Jones! The "Soul Sounds Open Mic" series is held every Thursday, with a special pre-performance writing workshop on the first Thursday of each month.
March 13 Featured Performer – Mahmoud El-Kati
MAHMOUD EL-KATI is a lecturer, author, and commentator on the African American experience. El-Kati is Professor Emeritus of History at Macalester College in St. Paul, Minnesota.

As a published author, El-Kati has written such books as Politically Considered: 50th Commemoration of the Supreme Court Decision of 1954, The Hiptionary: A Survey of African American Speech Patterns with Critical Commentary and A Digest of Key Words and Phrases, Haiti: The Hidden Truth, and The Myth of Race/The Reality of Racism: Critical Essays.

El-Kati hosts a weekly public affairs radio show called "Reflections and Connections" on KMOJ radio in the Northside of Minneapolis. He also moderates a monthly viewing and discussion on various Black classic films at the Fourth Fridays at the Movies held at Golden Thyme Cafe in St. Paul. Please visit his website at www.Mahmoudelkati.com

The theme of this open mic is SOLIDARITY. SOLIDARITY is comprised of a group of African people who are committed to collective learning and social action. The word SOLIDARITY is a call for any and all who are sincerely committed to serve. SOLIDARITY is committed to serve the struggle historically and contemporarily for social justice, participatory democracy, and pro-human values. SOLIDARITY is a call to all who dare to struggle and dare to win. Over the past 3 years, Solidarity has sponsored several community political education programs at the renowned Capri Theater; documentary films with expert panelists have been the format. The response to these presentations has been positive beyond measure. In addition, SOLIDARITY presents every fourth Friday of the month, classic and documentary African American films with historical, educational, political and entertainment content. We collaborate with our institutions such as our churches, our businesses, and our social/cultural institutions in an attempt to energize our community towards enlightenment and ultimately social change.

The symbol or adinkra for solidarity in the Akan tradition is Fi-Hankare (fee-han-krah). The people that practice and actively use the adinkra are the Akan people that live in West Africa, primarily in the countries of Ghana and Côte d I'voire. The adinkra are symbols that inculcate the spirit, values and desires of the community. They are woven into clothing worn by people and hung in the house. They are carved into wood and used as the cultural back drop of the many rituals, ceremonies and celebrations observed within the community.

Specifically, the FI-HANKARE literally means "An enclosed or secured compound house." Culturally, this adinkra is symbolic of our sisterhood, brotherhood, safety, security, completeness and solidarity within the family and community.
The event takes place from 6 p.m. to 8 p.m. at Golden Thyme Coffee Café at 921 Selby Avenue (corner of North Milton Street) in Saint Paul. All ages are welcome, and there is no cover charge. Every first Thursday, a writing workshop will be held an hour before the open mic begins, from 5 p.m. to 6 p.m.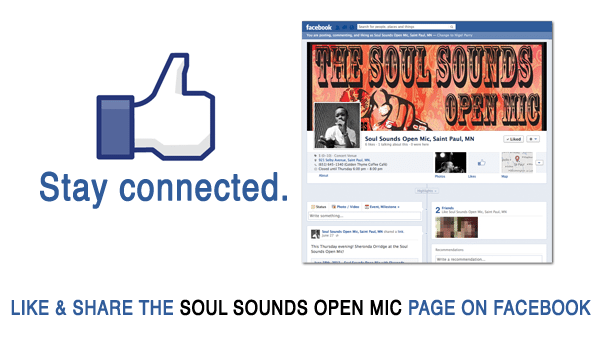 About Host Tish Jones
Tish Jones is a spoken word artist, writer, educator, organizer, and activist in the Twin Cities. She has worked as a teaching artist with Pillsbury House Theater, Intermedia Arts, Plymouth Christian Youth Center, MacPhail Center for Music, Minneapolis Public Schools (Arts for Academic Achievement), Kulture Klub, and many other arts organizations. She received the 2009 Artist of the Year Award from City Pages and was Female Spoken Word Artist of the Year at the Minnesota Spoken Word Association's Urban Griots Awards in 2009.
About the Soul Sounds Open Mic
The Soul Sounds Open Mic is a platform for encouraging literacy within the Saint Paul community through leadership, mentoring, and relationship building. Unlike actors and many musicians, writers typically work in isolation, so building and supporting a literary community can be a challenge.
The "open mic" format, together with a featured performer, is designed to foster leadership; encourage connecting opportunities between established, emerging, and amateur writers; and help build, strengthen, and leverage other opportunities for the Saint Paul literary community.
Featured performers are recognized as leaders in the literary arts community and are offered an opportunity to build their own audiences. The "Soul Sounds Open Mic" also provides a space to connect writers who are spoken-word based and writers who are written-word based, within the context of being artists sharing a common literary heritage and practicing their craft in Saint Paul.
The First Thursday workshops before performances will explore specific poetic devices such as alliteration, assonance, metaphor, or specific forms of poetry to investigate when developing a piece. Workshop attendees will be encouraged to share the work created in the workshop at the open mic that follows.
Event Location
The event takes place from 6 p.m. to 8 p.m. at Golden Thyme Coffee Café at 921 Selby Avenue (corner of North Milton Street) in Saint Paul. All ages are welcome, and there is no cover charge. The First Thursday writing workshop is held an hour before the open mic begins, from 5 p.m. to 6 p.m.