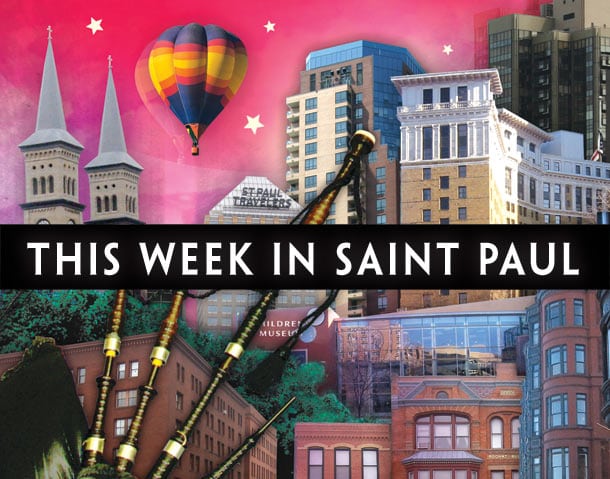 We are not quite recovered from this year's Saint Paul Art Crawl. It may be the best weekend in the Twin Cities, but this coming weekend doesn't look too shabby, either, and I think you might see some of the same faces out on the streets, with more than enough sights and sounds to make it worth your trip. The middle of the week doesn't look to bad, either. Get out, because our shining faces on the city may encourage spring to shine on us, eventually. Enjoy a quick look back below.
Words and Letters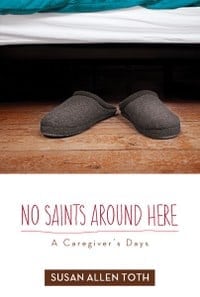 Longtime Macalester College author and writer-in-residence, the nationally noted Susan Allen Toth will be at Common Good Books on Tuesday, April 29. In her latest book, No Saints Around Here: A Caregiver's Days, Toth illuminates the realities of being a caregiver as her husband James's Parkinson's disease progresses into dementia. It's a personal memoir with a darkly funny take on end of life issues. The event begins at 7 p.m. Common Good Books is at 38 South Snelling Avenue.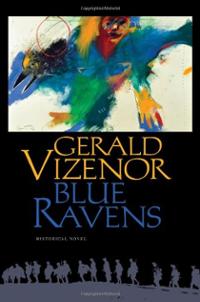 In Gerald Vizenor's new novel, Blue Ravens, The Great War and Native American reservations of a century ago serve as backdrops to two Anishinaabe brothers who venture off to war, and experience a post-war world contrasting the impoverished reservation with the sophistication of Paris. This is a story of courage in war, poverty, and identity from one of the iconic Native voices of our time. Vizenor also recently published a book of haiku, Favor of Crows. He will share those works on Thursday, May 1 at SubText: A Bookstore, 165 Western Avenue North, downstairs from Nina's. The reading begins at 7 p.m.
For Young People
As much as I love seeing little kids at the library, it gives me hope for the lasting vitality of our communities to see teens and young adults make the library a place to be. The Saint Paul Public Libraries have come up with some creative programming aimed at making the library a place for teens. One great idea they implemented is Library After Dark. It is held every Monday at the Rice Street Library. Teens can enjoy movies, snacks, activities, and unlimited Internet time. You can hang out with your peers in a great space without getting shushed. The doors close at 8 p.m., a time when everyone else has to get out to leave the space just for teens. The Rice Street Library is at 1011 Rice Street.
Even though National Poetry Month will officially be over, on Saturday, May 3, the Loki Puppet Players will be at the Central Library with "Poetry of Puppetry: Puppets Share Their Favorite Poems." They will take to the Jemne puppet stage and share some of their favorite poems and their not-to-miss "Forty Performing Bananas." This is part of the Saint Paul Public Library's Saturday Live! series that happens every Saturday at the Central Library. Shows start at 11:15 a.m. The Central Library is at 90 West Fourth Street in downtown.
Theater
Currently running at the SteppingStone Theatre is their adaption of Christian Andersen'sThe Nightingale. It is a tale that shows what true friendship is and what happens when you neglect those things you love to chase something new. Shows run through May 10. For dates and times, check here. The theater is at 55 North Victoria Street. Both evening and matinee showings are available and they accommodate school classes.
The Saint Paul Public Library hosts another Behind the Curtain event on Tuesday, April 29 at the Merriam Park Library. A could of weeks ago, we told you about The History of Invulnerability playing at the Minnesota Jewish Theater. On Tuesday, you will get a chance to meet cast members Dan Beckmann, Alex Brightwell, Charles Numrich, and Maggie Bearmon Pistner as they discuss their experiences working on the play. This event will be held at the Merriam Park Library, 1831 Marshall Avenue. They will gather at 7 p.m.
On Saturday, May 3, the History Theatre presents a piece of local history with it's staging of Working Boys Band. In 1917, Professor C. C. Heintzman formed the Band as an alternative to the common fate of many children who were forced to labor in order to help support their families. This is a musical story that depicts pre-child-labor-law America, a rough-and-tumble group of boys, and how discipline and compassion helped to change their lives. For show times and dates, check here. The History Theatre is at 30 Tenth Street East in Downtown.
Music and Legend
Friday, May 2 is your last chance of this season to experience "Lowertown Classics." This month, they will be featuring music from Medieval times, by John Dowland, J.S. Bach, and Pele Rose. Michelle Kinney on cello and Gary Waryan on tabla will weave classical, improvisational new music with electronic techniques to create something new and intriguing. Flutist Catherine Ramirez will join mainstay Eva Beneke on guitar to play "Histoire du tango" by Astor Piazzolla. Also featured will be Cléa Galhano on recorder. This is a great opportunity to access classical music from top musicians in a fun and casual setting–and you decide the cost when they "pass the hat." Check it out if you haven't. Lowertown Classics #4 is at the Lowertown Lofts Artist Cooperative, 255 East Kellogg Boulevard, Third floor atrium. Music starts at 8 p.m.
The Fitzgerald Theater will be the spot on Saturday, May 3, for a celebration of the legendary life of Pete Seeger. A score of singers, musicians, spoken word artists, social leaders, filmmakers, and others will take the stage to commemorate what would have been Seeger's ninety-fifth birthday. "For Pete's Sake: Celebrating Pete Seeger's 95th Birthday" will be a multimedia production that will be attended by members of Pete's family and many beloved fans from around the region and country. Check out the awesome roster of performers and narrators here. It includes some folks who are are stellar legends in their own right.
The celebration benefits the Children's Defense Fund (CDF) Freedom School in South Minneapolis. Be there at 7 p.m. Tickets can be purchased in advance. The Fitzgerald is at 10 East Exchange Street in Downtown.
Dance
This weekend The Minnesota Dance Festival returns to The O'Shaughnessy Auditorium. Ballet Minnesota will perform Coppelia, a lively, whimsical piece. What happens when the village swain falls in love with a life-size dancing doll? Come and find out, and also be treated by narration from local Twin Cities arts celebrities.The O'Shaughnessy is at 2004 Randolph Avenue. Performances are on Friday, May 2, at 7 p.m. and Saturday, May 3, at 2 p.m. and 7 p.m.
Festivals
Saint Paul boasts one of the best Cinco de Mayo festivals. The city's West Side will be alive with music, games, food, art, parades, people, and enough activity to make up for the art crawl being over. The West Side's strong history and community have, year after year, created a magical attraction that should not be missed. A 5K race begins at 8 a.m., and the parade starts at 10 a.m., along Cesar Chavez from Wabasha Street to Ada Street. Find a good spot for the parade and stay for the festivities.
My head is spinning from all the arts happenings of the past couple of weeks. It's hard to sort it all out, but if we have not done that to your satisfaction here, be sure to pick out your own favorites from the Almanac Arts Calendar. See you on the town.