The Saint Paul Almanac is a literary organization that creates opportunities for understanding, learning, and building relationships through sharing people's stories.
For Immediate Release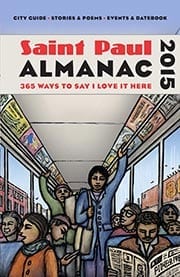 July 10, 2014 – Join us for "To the Nines," a Book Launch Celebration for the 2015
Saint Paul Almanac. We are launching the ninth edition of the capital city's very own literary and travel guidebook with our best party yet!
Almanac Author Readings · Art Exhibit Opening · Live Music from Local Bands · Local Food and Drink · Storymobile · and More!
Thurs., Sept. 11, 2014 | 7 p.m. | 308 Prince Street, Saint Paul, MN 55101
The 2015 edition of the Saint Paul Almanac.
is dedicated to Saint Paul educator; administrator, and activist Yusef Mgeni and to the memory of Kenneth Tilsen, a Saint Paul civil rights attorney and mentor to many.
features stories and poems from more than 100 local writers, including Rodrigo Sanchez-Chavarria, Garrison Keillor, Mameneh George, Mary Kay Rummel, Steve Kaplan, Katharine Klein Sawyer, Peter Rachleff, Margaret Hasse, Mike Finley, and many more! Interviews with Nimo Farah, Metric Giles, and Billy Peterson.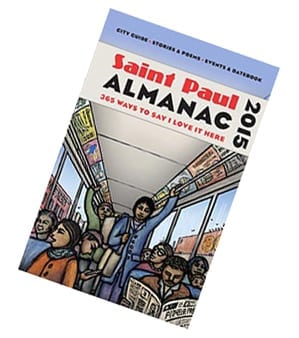 is illustrated by local artists with over 250 beautiful, full color photographs and artwork, cover art by Ricardo Levins Morales, and a refreshed book design with a brand-new logo.
"To the Nines," a Book Launch Celebration will take place in Lowertown, Saint Paul, at the AZ Gallery, Black Dog Coffee & Wine Bar, and Clouds in Water Zen Center, at 308 Prince Street in Saint Paul. The party venue is conveniently located near the METRO Green Line Union Depot Station
Cheap parking is available in the Kellogg Boulevard and Prince Street Lots. This event is free and open to all. Donations are gratefully accepted. The party features:
Books for sale – Be among the first to purchase the ninth and newest edition of the award-winning Saint Paul Almanac. Tee shirts and other fancy goods will be for sale.
Author readings – in Clouds in Water Zen Center, featuring Carol Connolly, Laurie Hertzel, IBé, Rebecca Song, Gavino and Douglas Limon, and others. In the coming months, catch these authors and more at the 2015 Saint Paul Almanac Reading Series at coffee bars around the city.
Art Exhibit – the opening night of a month-long exhibit (through September 29) of paintings, photos, sculptures, and other original art commissioned for the 2015 edition of the Almanac, in the AZ Gallery and
Black Dog Coffee & Wine Bar. Plus winners of the Almanac Re:Booked book art challenge will be announced.
Storymobile – Check out the Storymobile, the multimedia, solar powered roving art space that is fitted out to share and record Saint Paul stories.
Live Music – all evening in Black Dog Coffee & Wine Bar and AZ Gallery. Scheduled to appear: Martin Devaney, Hot Date, and Twin Cities Sitar Tabla
Food and refreshments – available at the Black Dog Coffee & Wine Bar. The Black Dog has an extensive wine list and eight local and regional craft beers on tap.
On the web: www.saintpaulalmanac.org
Follow us on Twitter @stpaulalmanac
Please use hashtag #Almanac2015 when posting to
social media
Publicity Contact: Lisa Steinmann
651-238-0556 lisa@saintpaulalmanac.org