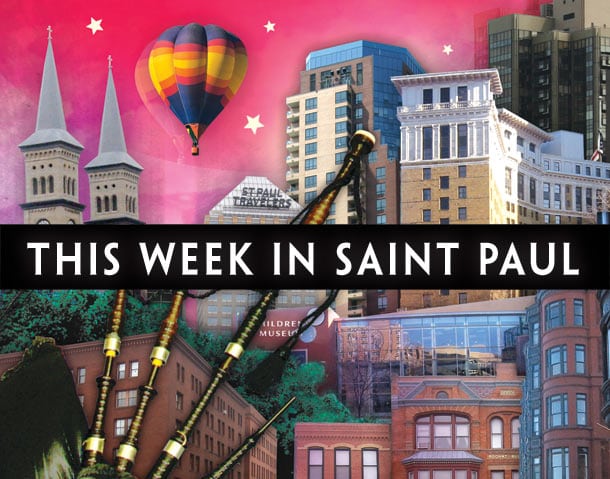 The Almanac arts calendar is loading up. It is a lot with which to keep up, but I am doing my best. Maybe you can help me keep up. Between all of us, we can keep up with all of the happenings in Saint Paul.
In the Almanac Family
It's Lowertown Reading Jam time again. This is the last in this year's series, which has been among the strongest since the inception of the LRJ. This week, Mankwe Ndosi is the curator of the Jam. Mankwe describes herself as a "musicmaker, performer, educator, and culture weaver focused on sound, story, and expanding the vocabulary of singing." She has collected a great cast for this edition, "Dreams for the Beginning of the Beginning." On Wednesday, July 23, Mankwe invites us to engage "innovation, quirk, wonder—unconventional thinkers and dreamers to call forth, dance forth, sing forth, and live into existence a more generative future" in response to a system of rule and oppression.
Mankwe has invited several artists to join her. Davu Seru is a jazz percussionist and improvisational musician who is a PhD candidate specializing in African American literary history and cultural criticism at University of Minnesota. Funkzilla and Company is an up-and-coming artist, one of the 2014 Naked Stages grant recipients, and a current fellow at Pillsbury House Theatre in Minneapolis. He has been in various productions by Mu Performing Arts and The Center for Hmong Arts and Talent, including Hmonglish Musical, W.T.F., Family Portrait, Love and Saving Face, and many more. Irna Landrum is a bit of a renaissance woman who comes to the Twin Cities by way of New Orleans, Louisiana. When she was in the sixth grade, she wrote a story about a woman who died in an accident on the way home. Her teacher took it as a personal threat. Though it's not what she's primarily known for, since then she's known she has a powerful way with words. Stanley Kusunoki is a teacher, poet, writer, arts advocate, and musician. He has served on panels for the Minnesota State Arts Board, and was on the board of directors for S.A.S.E., The Write Place. He has taught poetry to children through summer camps and elementary school residencies. Stanley is currently the High Potential teacher/coordinator at Red Oak Elementary School in Shakopee. Robert Karimi will host, and as always, we will be at the Black Dog Coffee and Wine Bar. The show starts at 7:30. The Black Dog is at 308 Prince Street.
Before the Reading Jam, get help with your writing and storytelling craft with Pamela Fletcher. Besides serving as Associate Professor of English and Director of Writing at St. Catherine University, Pamela is one of the two managing community editors that leads the process that puts together the Saint Paul Almanac each year. On three dates this summer, at Golden Thyme Coffee, she will eagerly share her passion for working with aspiring writers and those who desire to tell their stories. She says, "I enjoy helping writers and storytellers develop their confidence and voice, and hone their communication skills. Whether or not they know it, all people have stories that uplift and teach others. Your story has immense power, so tell it to someone today!" The First Session is Wednesday, July 23, from 4 to 6 p.m. The Golden Thyme is at 921 Selby Avenue. Other dates include Tuesday, July 29 and Tuesday, August 12.
On Thursday, July 24, Rebecca Song headlines Soul Sounds Open Mic. Rebecca is a strong voice among the young local literary and spoken-word voices that are changing a social narrative around issues of justice, race, and gender. As she describes herself, Rebecca "has parts made in China and Canada and assembled in the United States; in writings that could be considered poetry or spoken word, she explores her reality as a 1.5-generation immigrant, Asian/Asian American, and woman of color." She lends her voice and educated perspective to the organizing committee for the Twin Cities World Refugee Day and the Almanac's community editor process. In 2013, she was the recipient of the Inroads Mentorship Award. Rebecca brings a frank and aware perspective to the honest conversations in the arts world and our society. Meet at <a href="http://www.goldenthymeonselby.com/
" target="_blank">Golden Thyme Coffee Cafe at 6 p.m. and bring your own work and ears to listen.
Heart of the City Walking Tour. Enjoy some of Saint Paul's most historic landmarks on this tour that takes you into the heart of the city. The tour will cover popular spots like Mickey's Diner, Candyland, the Hamm Building, and more! The tour will take place the fourth Wednesday during the months of May through September and will depart from Landmark Center's Hamm Foyer by the 6th Street Entrance at 10 a.m. Space is limited, reservations required. Call 651.292.3237 to register.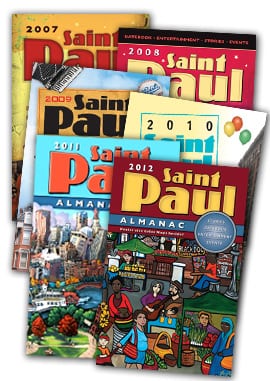 First there was the "Art of Baseballs" exhibit during the last Saint Paul Art Crawl. There was even an Art Baseball Auction of those pieces at today's (Monday) ballgame. Now, the Saint Paul Almanac is holding its own artmaking challenge. In honor of the ninth edition of the Saint Paul Almanac, we are inviting Twin Cities creatives to take old editions of the Almanac and craft them into new works of art. This project, "RE:BOOKED," will be on display at AZ Gallery in lowertown throughout September and be part of our always-exciting book launch on Thursday, September 11, 2014 in the Northern Warehouse.
Here's how it works:
Get a book. There are two ways: one, stop by the AZ Gallery on Saturday, July 26, between 9 a.m. and 3 p.m. AZ is in the Northern Warehouse Building at 308 Prince Street. Otherwise, contact Lisa Steinmann at lisa@saintpaulalmanac.org and put "RE:BOOKED" in the subject field.
Make your art. Create whatever your vision, inspiration, and craft can conjure.
Bring the art back to the AZ on Saturday, August 16.
There are CASH PRIZES for the top three entries as well as honorable mentions. One book per artist. If you have any questions or need to make special arrangements, you can contact Lisa. I can't wait to see what comes back.
Also, on Saturday, July 26, Storymobile will be at the Little Mekong Night Market to collect your stories from 5 to 8 p.m. Find our roving kiosk, record a video letter, write your story on the iPad keyboard, use a paper and pencil, do an audio recording. The market is at the 400 block area of University Avenue.
Theater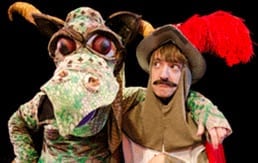 Hanging with some literary folks at Subtext Books, several people remarked that this is the slow time for literary readings. It is good that the Almanac is busy and there are more than enough festivals to tire us out.
This week, there is also a lot of theater. The Reluctant Dragon is still playing at SteppingStone Theatre, a great place for kids and adults to experience theater.
This week, you can also take the family to the front lawn of the Saint Anthony Park Library for Open Eye Figure Theatre's The Amazing Cow Boat. This show, part of Open Eye Figure Theatre's Driveway Tour, tells the story of a boy named Charlie who is playing in the bathtub. His imagination comes alive. And so does the bathtub—or is it a cow? Who knows? There will be music and puppets to help us find out. The library is at 2245 Como Avenue. The show is on Wednesday, July 23rd, and starts at 1 p.m.
Mu Performing Arts' last big hit was Almanac favorite Saymoukda Vongsay's Kung Fu Zombies vs. Cannibals. Now, they are taking on another fun project. They will be at the Park Square Theatre with an all-Asian cast performing Stephen Sondheim's musical A Little Night Music. You might ask why, but to ask is a rhetorical question that has an interesting answer found in this trailer. This classic stars Randy Reyes and Sheena Janson (Little Shop of Horrors). If you are wondering whether you need to see another classic, the trailer will give you that answer as well. Preview shows start Wednesday, July 23, and regular staging on Friday, July 25. Check here for box office information as well as times and dates of performances. The theater is in the Historic Hamm Building, 20 West 7th Place in Downtown. Performances run through August 10.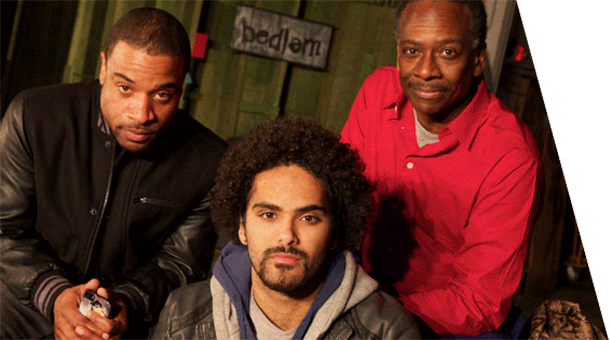 Bedlam Theatre in Lowertown has a few interesting shows going on this week. The first is a performance piece called AKA Fathers/Sons. AKA is an honest confrontation depicting the tough conversations between fathers and sons "talking explicitly about sexuality, sexual identity, and masculinity in communities of color." This production is the culmination of three years of work between Harry Waters Jr., Jordon Waters, and Kevin "Kaoz" Moore. This show dares to penetrate comfortable boundaries maintained by generations and social expectations as well as the boundaries between stage and audience. The show begins at 6 p.m. each night starting Thursday, July 24, through Saturday, July 26, and Sunday, July 27, at 2 p.m.
Even though a lot of us are adults, not all of us have that cultivated attention span required of some theater. A combination of click-and-read-multi-screen reality might be to blame as much as an attention "deficit." But alternate attentions might love this week's show at Bedlam. Also for four nights, they will challenge us to wrap our brains around Short Shorts Presents Summer Shorts: How Did You Get Your Shorts So Short? A Short Town Showoff. Each piece is five minutes or less. The folks at Bedlam tease us with ideas of "hosts having awkward moments! '50s housewives eating cake! Bedbugs drinking at the bar! Host-home mom pays a visit! Minnesotans try to say goodbye! Socks disappear from the drawer!" The pieces were created through Bedlam's Short Town and are sure to keep you scurrying to keep up with the characters and a plot created by transitions from one story to the next. Shows are daily Thursday, July 24, through Sunday, July 27, beginning at 8:00 p.m. Bedlam Theatre is at 213 East 4th Street across from Union Depot. Take the train if you can.
Also, you might want to check out September, contemplations of an elder couple portrayed in a series of vignettes about survival in the face of dissolution,on Friday evening at 10:30 p.m.
Music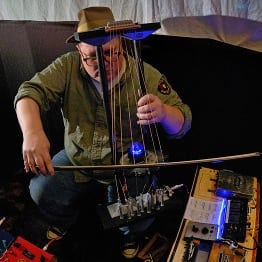 We still have a lot of sweet sounds happening with Music in Mears, Music in the Parks, Groovin' in the Garden, and Khyber Pass Thursdays (this week with Tim Kaiser). I know a few other highlights this week that you might want to check out.
Lowertown regular Zacc Harris will be down in the town twice this week. On Tuesday, July 22, he will be at the Black Dog (308 Prince Street) with special guest Brandon Wozniak. This show starts at 7:30 p.m. On Thursday, July 24, the Zacc Harris Group will be at Studio Z (275 East Fourth Street, Suite 200) at 8 p.m. Harris has gained a reputation as one of the area's top guitarists, and has received much recognition nationally as well as locally since arriving in the Twin Cities in 2005. With two chances to see him, you can't miss.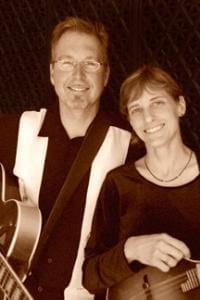 Brian and Sheralyn Barnes are Café Mélange and will be at the Landmark Center over the lunch hour on Wednesday, July 23. Their "eclectic variety of music is performed on both the guitar and mandolin, ranges from classic Americana to French, Italian and Latin and is said to transport listeners to another time and place." It is a good midweek getaway. The music starts at noon as part of this Music in the Cafe series. Landmark Center is at 75 West Fifth Street, Downtown across from Rice Park.
Finally, on Saturday, July 26, Mears Park will be the site of The Lowertown Blues Festival. The Minnesota Blues Society and the Lowertown Blues Festival Committee with support from the City of Saint Paul are sponsoring this production that will feature artists Sena Ehrhardt, The Lamont Cranston Band, Hamilton Loomis, and closing on the main stage, Shemekia Copeland. This festival is FREE and a great time for all ages. Mears Park is at Fifth Street and Sibley Street. Music gets underway at 3 p.m. and lasts well into the night.

more festivals
Last week was a wonderful week to be outside. It is expected to be warmer this week, but great summer weather nevertheless.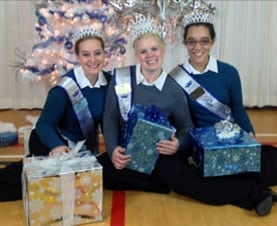 It's time for the Rice Street Festival. Things get started with the parade on Thursday, July 24, on Rice Street, from Sycamore to Rice and Arlington Fields. This year's parade will be led by Grand Marshals John and Mary Thoemke, a just honor for their work on the North End. The main festival will be on Saturday, July 26, with attractions ranging from a kickball tournament to a car show, high heel race, rock climbing wall, pony rides, dunk tank, jump castles, carnival games, face painting, fire dancing and more! There is even a movie in the park when it gets dark enough. Things get started at 8 a.m. Head to Rice Street and find the fun. On Sunday, July 27, they will crown the Queen. The Queen Coronation will take place at Community School of Excellence, 170 Rose Avenue West. at 1 p.m.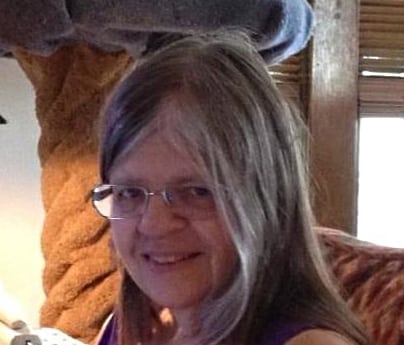 Finally, one of the things I did in Lowertown last week didn't even involve the arts. Well, I guess it did, as we do more things than we tend to acknowledge. I was at a farewell for Mary Turck, the outgoing editor of the Twin Cities Daily Planet, one of the media partners of the Saint Paul Almanac. It was at the Black Dog in Lowertown, in the hours before Lisa Bremmer and High Society took the stage for their cool monthly show. Mary has been a great editor who drove the excellence of the citizen journalism in what was supposed to be a brief, temporary stint but lasted long enough for her to make her mark on the emerging, new media scene in Minnesota. She's still writing and says she will likely get to join in more of the arts events in Saint Paul. If you keep following TWISP, maybe you will see her. Increase your chances by remembering to check our Almanac arts calendar. Thanks, Mary. We look forward to seeing you on the town and, still, in print.
Have a great week, everyone.