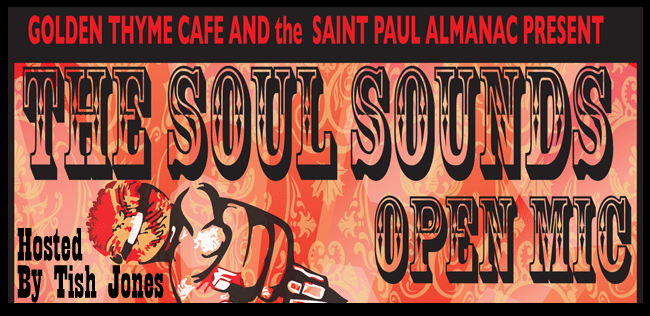 The Golden Thyme Coffee Café and the Saint Paul Almanac are pleased to announce the "Soul Sounds Open Mic," hosted by Tish Jones! The "Soul Sounds Open Mic" series is held every Thursday, with a special pre-performance writing workshop on the first Thursday of each month.
October 16th-with MC Longshot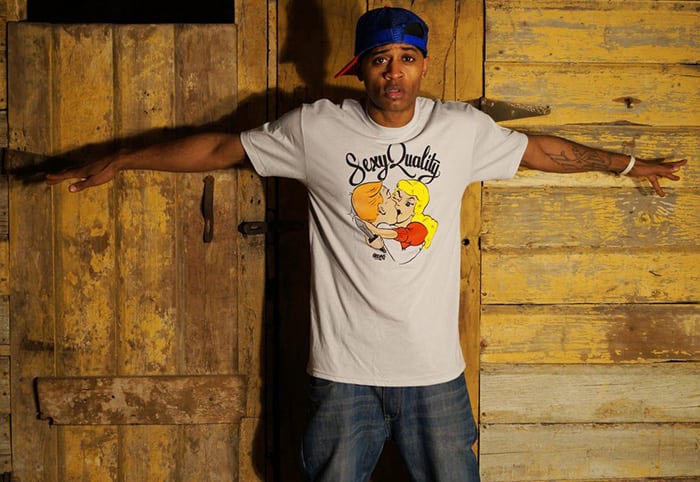 One of the hardest working and most underrated emcees in the business, MC Longshot is a well seasoned and professional hip hop artist from Chicago, Illinois. Aside from his undeniable talent and high quality music, Longshot propels his own life experience through his lyrics to inspire and motivate others.

Born on Chicago's south side, the oldest of six, Longshot moved around the city and country with his family before they were split apart by DCFS when he was only eight years old. After a couple of foster homes, Longshot was accepted into the Boys Hope Scholarship Program at 12 and lived there until he graduated high school at age 18. After high school, Longshot got accepted into Drake University, where his love for freestyling was first show-cased. After two years of attending Drake, Longshot realized that his true calling was music, and he moved the east coast to further develop his passion.

While out east, Longshot honed his skills as an emcee on the open mic and battle circuit before returning to Chicago in the fall of 2001. With the assistance of DJ Anomaly, Longshot released his first single "Happiness is Hard to Find" in February of 2002. A year later, EV Records released Shot's first full length album, "Open Mouth's Fed." That album introduced Longshot to the world as a thought provoking, soulful word smith, and also helped him get a spot on URB Magazine's 2003 "Next 100 List." In 2004 Longshot partnered with longtime Chi-Town producers, the Molemen, to create "Sacrifice," Shot's second full length album. For his third album, Shot decided to try and unite Chicago's seemingly divided hip hop community by utilizing some of the city's best rappers, producers, and Djs for a project he called "Civil War pt.2" Thirty tracks, 28 co-produced and rapped on by Longshot, of raw Chicago hip hop, were documented and edited for an accompanying DVD by legendary Chicago filmmaker Konee Rok. Longshot's fourth album, "Issues," was released in March 2007 and was produced entirely by then label mate, Copperpot. In October of 2008, after three years of touring as Psalm One and Diverse's Hypeman, Longshot and EV records released his 5th album, "Addicted."
A month later, Longshot recorded a song, "Hip hop is..," and entered it in the Jake One/ RSE song writing contest. After over 1,000 entries and over 7,000 voters, Longshot was chosen by the fans as the winner, and will have his next single produced by Jake One and Distributed by Rhymesayers Entertainment. A seasoned performer, Longshot can be backed by a live band or a DJ, and makes himself a hard act to follow. His passion, energy, and love for music, along with his "you can be what you work for message," are felt in every song.
The event takes place from 6 p.m. to 8 p.m. at Golden Thyme Coffee Café at 921 Selby Avenue (corner of North Milton Street) in Saint Paul. All ages are welcome, and there is no cover charge. Every first Thursday, a writing workshop will be held an hour before the open mic begins, from 5 p.m. to 6 p.m.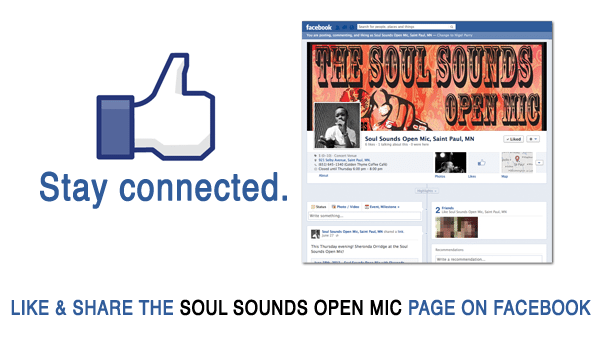 About Host Tish Jones
Tish Jones is a spoken word artist, writer, educator, organizer, and activist in the Twin Cities. She has worked as a teaching artist with Pillsbury House Theater, Intermedia Arts, Plymouth Christian Youth Center, MacPhail Center for Music, Minneapolis Public Schools (Arts for Academic Achievement), Kulture Klub, and many other arts organizations. She received the 2009 Artist of the Year Award from City Pages and was Female Spoken Word Artist of the Year at the Minnesota Spoken Word Association's Urban Griots Awards in 2009.
About the Soul Sounds Open Mic
The Soul Sounds Open Mic is a platform for encouraging literacy within the Saint Paul community through leadership, mentoring, and relationship building. Unlike actors and many musicians, writers typically work in isolation, so building and supporting a literary community can be a challenge.
The "open mic" format, together with a featured performer, is designed to foster leadership; encourage connecting opportunities between established, emerging, and amateur writers; and help build, strengthen, and leverage other opportunities for the Saint Paul literary community.
Featured performers are recognized as leaders in the literary arts community and are offered an opportunity to build their own audiences. The "Soul Sounds Open Mic" also provides a space to connect writers who are spoken-word based and writers who are written-word based, within the context of being artists sharing a common literary heritage and practicing their craft in Saint Paul.
The First Thursday workshops before performances will explore specific poetic devices such as alliteration, assonance, metaphor, or specific forms of poetry to investigate when developing a piece. Workshop attendees will be encouraged to share the work created in the workshop at the open mic that follows.
Event Location
The event takes place from 6 p.m. to 8 p.m. at Golden Thyme Coffee Café at 921 Selby Avenue (corner of North Milton Street) in Saint Paul. All ages are welcome, and there is no cover charge. The First Thursday writing workshop is held an hour before the open mic begins, from 5 p.m. to 6 p.m.