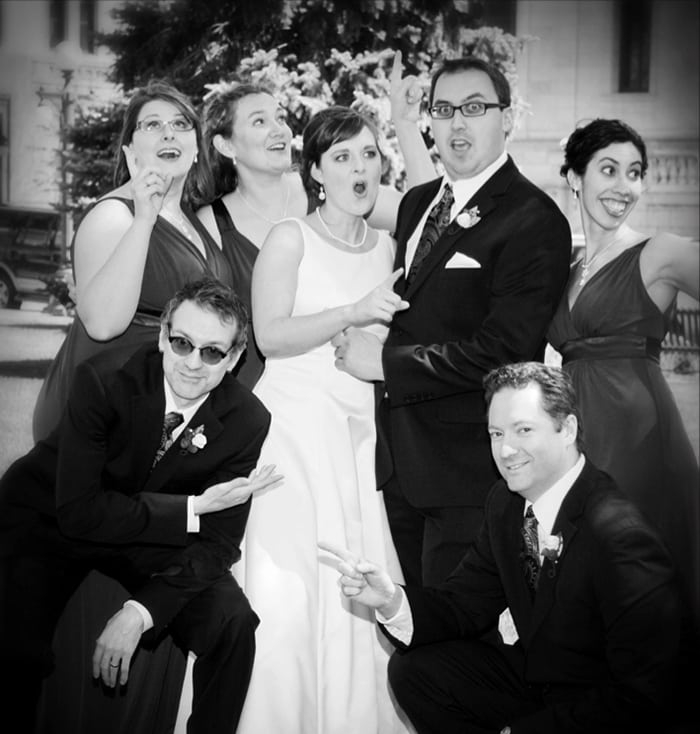 In a way, I feel sorry for Kate Middleton. She didn't have to worry about a flooding Mississippi River dumping tons of mud on the wedding venue. Nor did she spend nights making hundreds of paper rosebuds for bouquets and centerpieces. She probably just sat back while royal wedding planners rolled in cakes and dresses and samples of party favors.
Where's the fun in that?
Brian proposed to my daughter Sarah on February 12, 2010. Sarah went into planning mode about two minutes after whispering "yes," setting in motion the Year of the Do-It-Yourself Wedding.
From the beginning, this was an uncommon wedding. While Kate (someday destined to be Queen Consort of England) chose the famous British fashion house Alexander McQueen to create her wedding ensemble, Sarah found the dress of her dreams at the once-a-year Goodwill sale of donated new and slightly worn gowns. Standing in a community dressing room with four other brides, I told her, "You'll know it's the one because it will make you feel like a princess." The moment she slipped it on, I saw it in her eyes. The gown was simple and elegant, reminiscent of something out of Grace Kelly's closet. It was perfect.
With the dress out of the way, we moved on to details such as invitations, programs, menus, and name cards. We designed and made everything. It became a family event: trips to the paper outlet, cutting, folding, gluing. Do you think the Queen Mum would have jettisoned her useless handbag, tossed her pastel boater to the wind, and rolled up her elegant sleeves at a family pizza and wine party to assemble 130 invitations? Not bloody likely.
Another chore during those winter months was making the flowers. My daughter decided real flowers were too "stressful." So she went another route that can only be described as the Dr. Seuss detour. I wasn't so sure about this. We fashioned flowers out of colored paper. Bouquets, boutonnieres, and table centerpieces emerged as blooms cut from a whimsical garden—and, in the end, I found myself falling in love with them. Oh, the places you'll go when you decide not to grow.
Soon spring arrived, and so did the water. There is nothing like watching as the Mississippi River creeps up the steps, crosses the patio, and pounds against the doors of your wedding venue: Harriet Island Pavilion. For much of April 2011, I was glued to the flood forecast charts and the Saint Paul river cam images of a raging Big Muddy. Guests asked if they should bring galoshes and hair dryers. Harriet Island became submerged at 17.5 feet. The waters finally crested at more than 19.
On May 15, the day of the wedding, however, the cleanup was done and the river was back to its normal lazy self. The sun shone for the first time in weeks. I couldn't stop smiling.
Yes, weddings are serious things, but they also should be fantastical, Kate. They should have wedding programs with Mad Libs and crossword puzzles to keep your guests occupied while all those photos are being taken. They should be high on romance and low on stuffiness. And when your wedding day winds down and you head home—whether to a palace with 775 rooms or a 100-year-old brick fixer-upper in Saint Paul—remember the words of Theodor "Dr. Seuss" Geisel as you snuggle under the covers: "You know you're in love when you can't fall asleep because reality is finally better than your dreams."