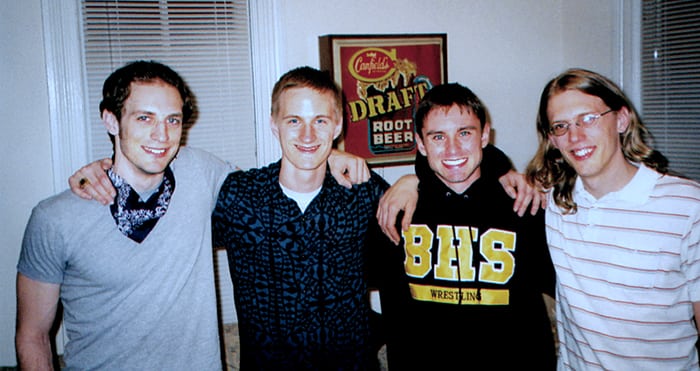 Quiet and complacent; that described me in high school. A campus planning mishap catapulted me from my insular high school persona into one boisterous, self-assured college student. I owe it all to calling Bailey Hall in Saint Paul my home freshman year at the University of Minnesota.
Due to a housing shortage, instead of an actual dorm room, the U stuck me in a makeshift quad that used to be the second-floor lounge. And what did I get? Two weeks of horrible roommates and a lousy tee shirt. My view of college was bad music, gambling, and guys stuck in high school mode. Cut to two weeks later: I was finally given an actual dorm room, complete with a future-best-friend roommate who introduced me to a group of guys that burst with the energy of insanity. Seduced by their lack of concern with social pressures, I enthusiastically joined their hijinks, adding a flavor of my own.
Sober by choice but sleep-deprived from partaking in our new- found freedom of college life, we entertained ourselves by entertaining our dorm mates. We started an impromptu taxi service by picking up drunk people via shopping cart and depositing them at their desired destination. When not running our taxi service, we used our shopping cart for our own self-made scavenger hunts, knocking on random doors to request contributions. We'd receive things like glitter makeup, a beach ball, an orange, and tons of cardboard boxes, all used for future random adventures, such as one of us running around campus with a box duct-taped to his head. And on multiple occasions, we literally turned things in our CA's (community advisor's) room upside-down because of his steadfast refusal to get riled up by our shenanigans.
We couldn't stop at the dorm, though. It was time to take our depravation off-campus. The mission of the ridiculous would be harmless in description, flawless in execution. Our rag-tag team (Lee, Devin, Big Mike, Paul, and I) wore a variety of clothing not suited for everyday wear. Lee wore two baseball gloves for hands, an aviation helmet, a belt outside his sweatpants, a one-dollar pair of sunglasses, and to top it all off, a catcher's chest protector.
I modeled sweats, a gray V-neck tee shirt with a wire hanger shoved down the back of it, my one-dollar sunglasses, a red face mask, and a baseball glove for a right hand. I can't describe what Devin, Big Mike, and Paul wore . . . they really weren't clothes in the conventional sense. After taking pictures to capture the joy, we walked down the hall, costumes on. People yelled "what the?" and laughed spastically. We were just warming up.
We strolled into Perkins, where the host asked if we were high or drunk. Of course not, just deprived. Or inspired? A family sat at the table next to us, and the two kids kept staring. Time to put on a show. Big Mike and Paul intertwined arms and fed each other. Devin cheered us on in his best Jabba the Hut voice as Lee and I tried cutting our food with our baseball gloves still on. The parents pleaded with their kids, "They're crazy, don't look at them, look away!" Turning people's perceptions upside down was our drug, and I couldn't get enough, reveling in our off-the-wall humor.
We may have retired our dollar sunglasses, and we eat much better without baseball gloves on. But adventures like these transformed me, providing me with an unending arsenal against complacency.