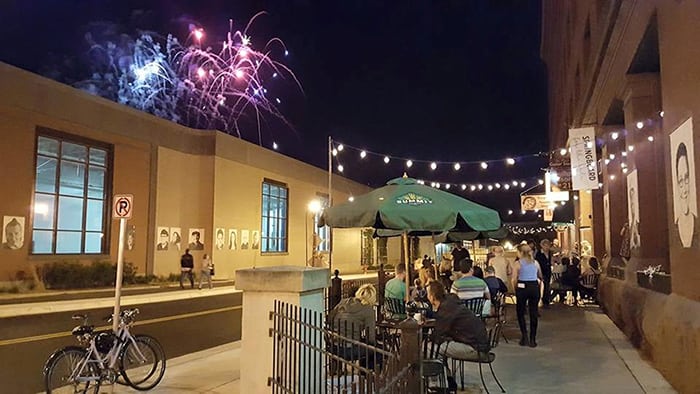 This week marks the grand opening of SubText Books in its new downtown space and this month's Lowertown Reading Jam, "ArtTransForms." A friend and former bookseller made me think of the importance of what we are doing in our community with art and literature. She said of the two events, "I hope against the tide too … in many things, actually. Resistance is important, in small and large ways." She left town some years ago but sees what is happening here and wants to move back for the energy. This new chapter for SubText and for independent booksellers, as well as the strong voices from Lowertown, mark a tide shift. There are things happening all over the city. Now is the time to jump in with the next wave. Look, here's the next wave.
The Almanacians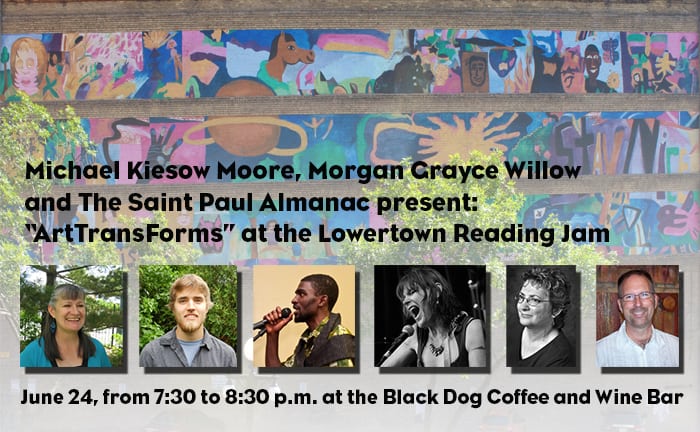 Art is a dangerous thing, challenging the unchecked powers and assumptions of malorder. Art can be the harshest critic and a most superior comfort. As the presenters of this week's Lowertown Reading Jam tell us, art can be used "to make a better world … be it in our personal journeys or to make a more equitable society, art-making plays a crucial—even transformative—role." Michael Kiesow Moore and Morgan Grayce Willow have invited us to join them to do just that for "ArtTransForms." The two have gathered a star-studded collection of artists well-known in different arenas of art and performance.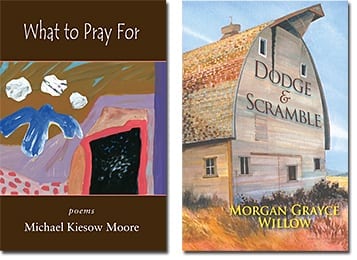 We recently celebrated co-curator Michael Kiesow Moore's new collection of poetry, What to Pray For. Our other co-curator Morgan Grayce Willow's most recent collection, Dodge & Scramble, was inspired by the vanishing landscape of her origins, symbolized by the icon of the barn.
The two are joined by an amazing cast that includes Anishinaabe poet and playwright Ardie Medina; poet and lover of the outdoors and the natural world Eric McKendry; award-winning spoken word poet and Saint Paul Almanac editor IBé; and multidisciplinary artist and musician best known as a singer-songwriter transgender rock star and leader of the band All the Pretty Horses, Venus de Mars! Art transforms, and come be a part of the change; even lend your hand and your words to a collaborative poetry experience. We are still at our beloved Black Dog Coffee and Wine Bar, 308 East Prince Street, kitty-corner from the Farmers' Market. We begin at 7:30 p.m.
Do you know about the New and Nearby Reading Series at Trotter's Cafe? On Saturday, June 27, at 9:30 a.m., the cafe will host Alan Guebert with Mary Grace Foxwell, who have put together a humorous and heartfelt memoir of farm life and the political and social realities of rural living. Fast Food Nation author Eric Schlosser calls Guebert one of the "finest writers on the workings and the politics of our food system" as he talks of the values of family, community, respect for the land, and social justice. Trotter's is at 232 North Cleveland Avenue, at the Marshall Avenue intersection.
Some of you local book devotees have been to the new SubText bookstore. You guys are the cool kids. This week, the rest of us get a chance to catch up with your coolness with the week's grand opening events for the new store at its new downtown location.
The importance of a local bookstore cannot be understated. Much of our work is about showcasing the true and authentic creative voices of the place in which we live. Just as important is having media and arts that are shaped and driven by local tastes, values, and the energy that sustains us. SubText's move signals the emerging and long-standing strong local connections our readers have to the literary world and the cultural intelligence that has seen community book places spring up all over the Twin Cities in the past several years. SubText's move ends a 20-year absence of a full-service, independent bookstore in downtown.

If you missed last week's inaugural reading with David Housewright, there are several chances to help break in the new SubText space. The main event, SubText celebrates its GRAND OPENING as the ONLY downtown Saint Paul bookstore, takes place on Friday, June 26, as they cut the ribbon on the new store. The program will feature local dignitaries and others who are just pretty good with a scissors, including Mayor Chris Coleman, State Representative Carlos Mariani, city council member Dave Thune, and (our favorite) Saint Paul Poet Laureate Carol Connolly. The festivities begin at 11 a.m. There will be cake!
To go along with the new digs, SubText will host a great list of literary and music events to make the store show itself off as the store it promises to be. The events include:
Thursday, June 25 at 6:30 p.m. LGBT reading with Jessie Chandler, Christina Glendenning, Rachel Gold (also writes as Rachel Calish), and Ellen Hart
Friday, June 26 at 2 p.m. Irish mysteries, stories, and music with Erin Hart and Paddy O'Brien
Friday, June 26 at 6:30 p.m. Poetry by Thomas R. Smith and Timothy Young
Saturday, June 27 at 3 p.m. Poetry by Rich Broderick and Zoe Bird
Saturday, June 27 at 5 p.m. Poetry and merriment with Mike Finley and Danny Klecko
Sunday, June 28 at 11 a.m. Café Mélange music with Brian and Sheralyn Barnes
Monday, June 29 at 6:30 p.m. "Nodin Poetry Anthology" contributors Sharon Chmielarz, Carol Connolly, John Flynn, Joyce Sutphen, and Dara Syrkin read their work
Tuesday, June 30 at 5 p.m. Tim Spitzack reads from "Reflections from the Riverfront: Essays on Life in the Mississippi National River and Recreation Area"
Tuesday, June 30 at 6:30 p.m. "Story Circle Stories" hosted by Rose McGee and Ann Fosco
The new SubText is at 6 West Fifth Street, at Wabasha. Don't miss this gem, if not at one of these great events for our bookish town, another time. Take the train downtown or find easy parking after 5 p.m. It has more books, more space, and more to love. Also, the store's friends Addendum Books will bring along children's literature and fare to the new space. Come see.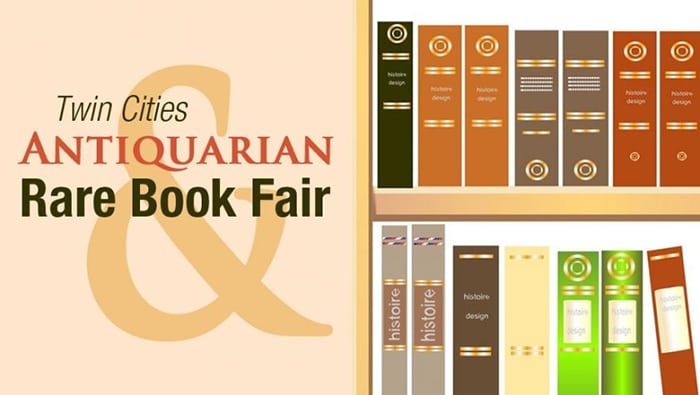 Last weekend, the state fairgrounds were souped up with old cars. This weekend, the fare is old books. On Friday, June 26, and Saturday, June 27, the Progress Center at the fairgrounds will host the 25th annual Twin Cities Antiquarian & Rare Book Fair. From 10 a.m. to 3 p.m. each day, indulge in your deepest bibliophilia as more than 60 dealers of rare, antique, and collectable books will show and trade. The Minnesota State Fairgrounds are at 1265 North Snelling Avenue.
Stages


Would you like it if Sherlock Holmes came to town? Don't answer too quickly. The Park Square Theatre sets his sleuthing in the midst of our Saint Paul Winter Carnival, and his reasons for being here are not pretty. But pretty little heads should not worry, or at least not the one of a Saint Paul millionaire. He is not worrying his pretty little head—because he lost it. Actually it was severed from his body. That is the backdrop for Park Square's "Sherlock Holmes and the Ice Palace Murders." The play is adapted from the book of the same title by local mystery writer and architectural historian Larry Millett. Check here for show dates and times. This production is on Park Square's Proscenium Stage. The theatre is at 20 West Seventh Place in downtown. Enjoy the show and mind your head.
Tunes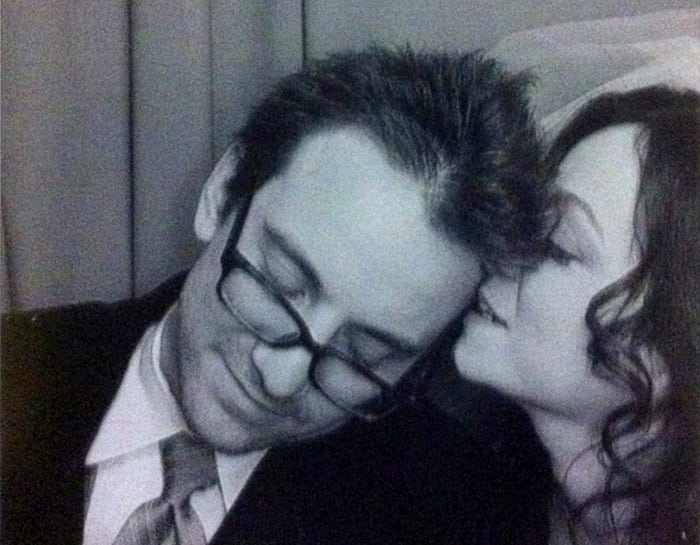 Lowertown is the spot for new music in this town. On Wednesday, June 24, Bedlam Theatre will be the venue for original music from StoLyette, Whale House, and Feed Your Head. StoLyette is a Minneapolis-based duo with Ben Clark and Minsk native Irene Ruderman-Clark, whose only instruments are bass and vocals and a bit of fun electronic magic used to rework Russian folk songs into something curious. Each of Whale House's songs is an experiment, lacing hooks and catchy melodies with grungy, psychedelic raw energy. Feed Your Head is an indie rock trio of folk souls, manic minds, and punk upbringings. The sounds from this show will leave your head spinning with delight. The music starts at 9 p.m. Bedlam is at 213 East Fourth Street at the end of the Green Line.
Lowertown has done its part on several fronts to keep jazz alive in the Twin Cities. The art form gets one of its annual big boosts this week with the Twin Cities Jazz Fest. More musicians than you can count (or at least I had trouble counting; I ran out of fingers and toes before I got a quarter of the way through the list) will be in Mears Park to play for more people than you can count at this festival that has, in the past decade and a half, become a strong tradition. The event is heralded as a world-class event for jazz lovers and jazz-lovers-to-be. Come for the music. Come for the social and cultural spectacle. Come see why there is an resurgence of jazz in Saint Paul. The music will kick off with Pippi Ardennia on the main stage on Thursday, June 25, at 6 p.m. The festival will end with a jam session late on Sunday night, June 27. This is a free event in a great venue with the best jazz you can find. Check out the event schedule to find out who's playing, and check out the other venues hosting shows as part of this extravaganza.
Art transforms. It also heals. On Friday, June 26, join an amazing musical lineup playing a benefit concert in support of the Evan Ormasa Hiendlmayr Healing Arts Program at Regions Hospital and its Complementary Care Therapies department. Concert for a Cause! brings to the stage Dean Magraw, Lynn O'Brien, Steven Hobert, The Pines, and Jeremy Messersmith. Feel good to make more people feel good. The O'Shaughnessy auditorium on the campus of St. Catherine University is the venue. The concert starts at 6 p.m. St. Kate's is at 2004 Randolph Avenue.
Family

Have you been keeping up with Summer Spark at our Saint Paul Public Libraries? I don't think you can actually keep up. There is just too much happening at too many branches. This week's events include: at 10:30 a.m. on Tuesday, June 23, storyteller Paulino Brener at Riverview Library, the Brodini Comedy Magic Show at Saint Anthony Park Library, the comedy of the Schiffelly Puppets at the Merriam Park Library; at 2 p.m. Brodini reappears at Saint Anthony Park; and at 3 p.m. Como Park Zoo hosts "Journey Through Africa" at the Rice Street Library. On Wednesday, June 24, Brodini's comedy magic heads to the Sun Ray Library at 11 a.m.; and the famed Roe Family Singers will be at the Highland Park Library at 2 p.m. On Thursday, June 25, the Schiffelly Puppets will be at the Hamline Midway Library at 10:30 a.m. Check here for more details on each event and locations.
On Saturday, June 27, head to the West Side for the Bike, Walk, Roll West Side Tour. Pick up a "Passport to the West Side" at the West Side Farmers' Market and take a self-guided tour of the neighborhood. It is a great way to learn more about our neighbors on the ground level and a great way to get outside in this lovely summer. The West Side Farmers' Market is at 63 West George Street. You can pick your passport any time after 10 a.m.
As we start this week, the days are getting shorter. I hope that sparks a sense of urgency in us. Even though the summer is young, the time is getting short. That means you have to get out on the town. Join me and the rest of your friends this week and the rest of the summer. If you are still not sure what to do, check the Almanac arts and culture calendar. You can't go wrong.