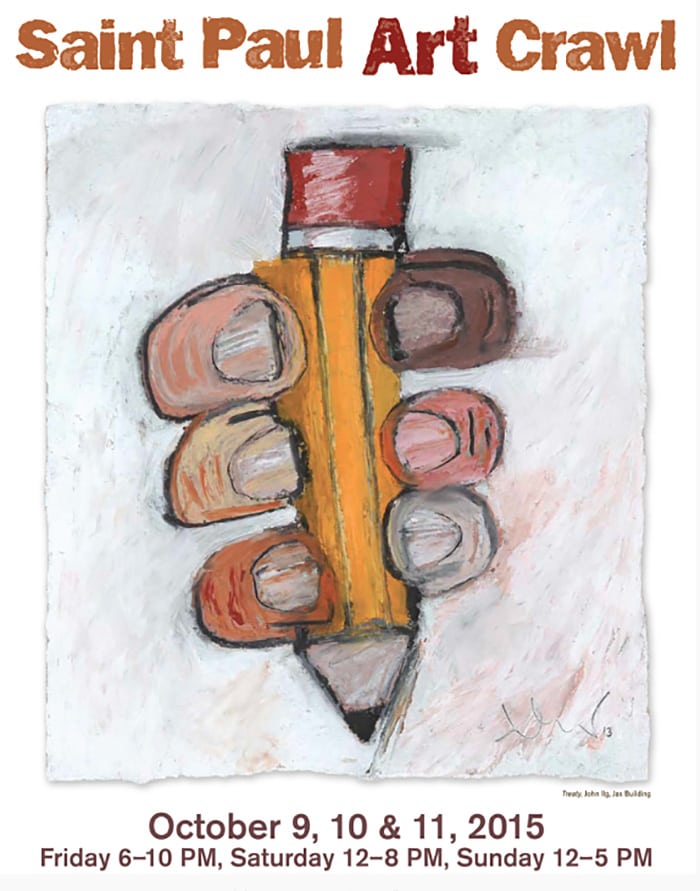 Autumn is my favorite time of year. (Did I already tell you that?) I have heard whisperings that I am not the only one who enjoys the season. A few of the leaves have begun their turn, and we have been blessed with sun shining through the crisp air. The festivals are winding down but not completely, and a lot of performance seasons are starting up. It is also time for the Saint Paul Art Crawl this weekend. That and a lot of other great events are reasons to enjoy the weather and see Saint Paul.
Use Your Words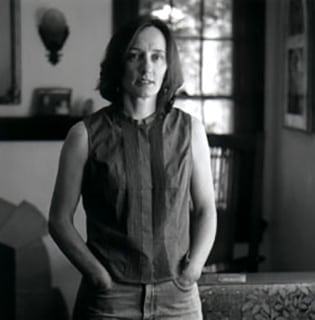 Last week, Saint Paul writer Julie Schumacher became the first female winner of the Thurber Prize for American humor. Her academic and literary cred, along with the fact that she lives in Saint Paul, makes it no surprise that this honor would come her way. And after two decades of seeing her steal the local book scene, she seems like one of the usual literary suspects. What many people don't realize is that she, as a child, was "somebody who thought books were hard and boring" and "didn't learn to read very easily." This revelation resonates strongly with me and with a lot of people who are told they are not the caste of people to tell or consume the stories of their identity. We don't all have to win awards, but we all have to use our words. A few people are doing it around town this week.
Words and Letters
We all have words and we should use them in the most important places with the most important people. Stuck to our work desks, to digital screens, and in various forms of traffic, we don't always do that. When was the last time you wrote a letter? When was the last time you received one? I am an advocate for writing letters. I may have told you that one year I wrote hundreds of personal letters. It was not until years later I realized that, for the most part, they were love letters, even if I did not want to admit it to the recipients.
Letters are important, especially love letters. Whitman College sociology professor Michelle Janning agrees. A focus of her research has been digital versus handwritten romantic communication. On Thursday, October 8, she will be at the University of St. Thomas to present her talk "Why Love Letters Matter, Even in the Digital Age." "Love letters matter—whether or not the writers become lifelong partners," Janning told Chicago Tribune. "They become our relationship counselors, reminding us of what to avoid in future relationships and what to rekindle." Apart from their cautionary function, letters are intrinsically precious. In her study "Love Letters Lost? Gender and the Preservation of Digital and Paper Communication From Romantic Relationships," Janning reported that 88 percent of us save our love letters. I am the 88 percent. They can be important for healthy relationships and families. They are important for telling our stories. This talk is part of the Healthy Relationships lecture series sponsored by the St. Thomas Family Studies Program. The St. Thomas event starts at 6 p.m. in the Great Room (Room 100) of McNeely Hall, 2060 Summit Avenue.
Music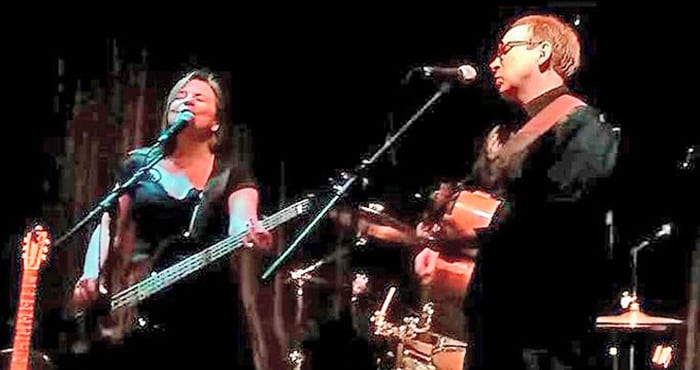 What are you doing for lunch on Tuesday, October 6? Perhaps enjoying noonartsound with Wilkinson James. The music duo is composed of Andrew "AJ" Scheiber and Liz Wilkinson, both professors in the English department at St. Thomas, who will do their rockabilly folk thing for lunch. The noonartsound series is a University of St. Thomas program that blends musical performance and historical perspective. Wilkinson James will be performing in the O'Shaughnessy Room (Room 108) of the O'Shaughnessy-Frey Library Center on the St. Thomas campus. The address is 2115 Summit Avenue.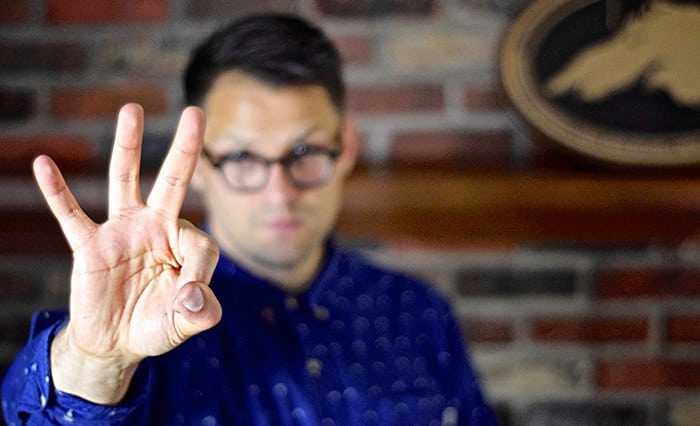 The Charlie Christenson Standards Trio is clear, spare, straightforward and fits gently into the groove of its latest project that breaths contemporary life into iconic American music. Christenson is a nationally renowned jazz composer and a voice instructor at McNally Smith College of Music. On Wednesday, October 7, Christenson is joined by Matt Edlund on drums and Graydon Peterson on upright bass at the Black Dog Coffee and Wine Bar. The trio has an album coming out in the spring, but you can get a live taste now of their solid jazz and gentle pop. The show starts at 7:30 p.m. The Black Dog is at 308 East Prince Street in Lowertown.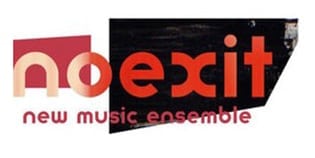 Zeitgeist, Lowertown's nationally acclaimed and hugely successful new music quartet, starts its season off this week in collaboration with the Cleveland-based group No Exit. The two groups will perform "Here and There," described as an "exchange of local sounds and talent." Zeitgeist will perform music by Ornette Coleman, John Cage, and Clint Needham, as well as world premieres of new works by Twin Cities–based Steven Rydberg and Cleveland composer Andrew Rindfleisch. No Exit will perform works by Minnesota composers Stephen Paulus and Justin Rubin. Shows are Thursday, October 8; Friday, October 9; and Saturday, October 10. Saturday's performance will include a special combined set featuring work by Pat O'Keefe and Stacey Bowers. All shows are at 7:30 p.m. at Studio Z, 275 East Fourth Street, Suite 200.
This weekend, the Saint Paul Chamber Orchestra brings us Bach's St. Matthew Passion. Performances will be led by English conductor Paul McCreesh. This work is considered to be Bach's finest, both technically and in terms of expressing his personal Christian identity. The St. Matthew Passion will be performed in a distinctive one instrument/voice-to-a-part arrangement, featuring singers from the renowned Gabrieli Consort. Performances are Friday and Saturday, October 9 and 10, at 7:30 p.m. The Sunday, October 10, performance is at 2 p.m. Concerts are at the Ordway Center, 345 Washington Street in Downtown, across from Rice Park. This event also features a discussion and open rehearsal. The discussion with conductor Paul McCreesh will be at Landmark Center, 75 West Fifth Street on Tuesday, October 6, at 6 p.m. The open rehearsal is Thursday, October 8, at 7 p.m. at the Ordway.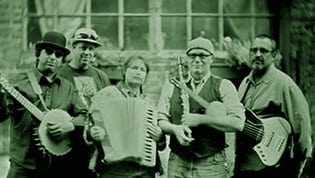 On Friday, October 9, check out the Black Dog for Machinery Hill's monthly show. Flavored with different parts of Americana, with bits of fun, folk, and friskiness, Machinery Hill brings the energy of many festivals, events, and stages to the Black Dog each second Friday. (The Black Dog is still at 308 East Prince Street.) They'll start swinging at 8 p.m. amid the whirl of Art Crawl.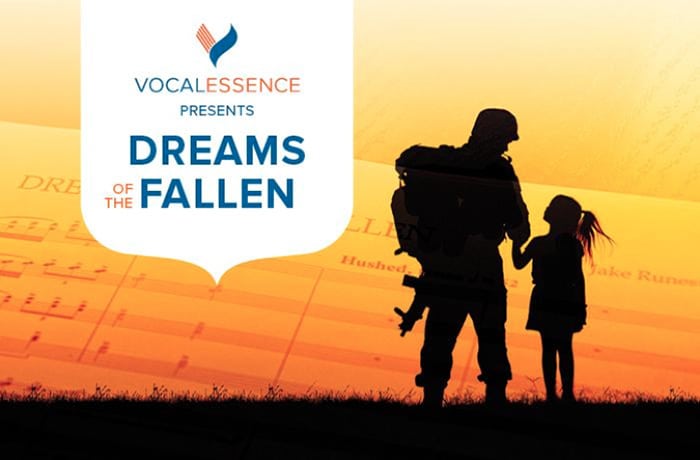 Sunday, October 11, brings VocalEssence to the stage of the O'Shaughnessy for a special performance called "Dreams of the Fallen." This unique collaboration pairs Iraqi war veteran and poet Brian Turner with rising-star composer Jake Runestad. Through chorus, solo piano, and orchestra, they give voice to the impact violence has on soldiers long after leaving leave the battlefield. This Midwest premiere features the VocalEssence chorus and ensemble singers, the Metropolitan Symphony Orchestra, pianist Jeffrey Biegel, and soprano Maria Jette. The performance begins at 4 p.m. The O'Shaughnessy auditorium is on the campus of St. Catherine University, 2004 Randolph Avenue.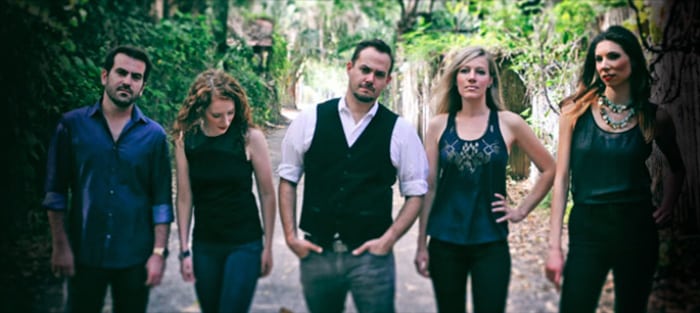 Sybarite5 is a quintet that is smudging the lines of stuffiness in classical music. It is composed of Sami Merdinian, violin; Sarah Whitney, violin; Angela Pickett, viola; Laura Metcalf, cello; and Louis Levitt, bass. On Sunday evening, October 11, head down to Bedlam Theatre for The Schubert Club Presents: SYBARITE5. You might remember the first time you heard the Kronos Quartet's rendition of "Purple Haze." Come to that electrifying experience again as Sybarite5 intertwines influences from Mozart to Radiohead as the group plays the world premiere of "Look Back/Move Forward," a title indicative of the quintet's classical roots and emerging rock star status. The show contains commissioned works from Mohammed Fairouz (Muqudammah), Kenji Bunch (Allemande pour Tout le Monde), Daniel Roumain (Kompa For Toussaint), Eric Byers (Sarabande), Michi Wiancko (Blue Bourrée), and Lev Zhurbin (Giguely). The performance begins at 7 p.m. Bedlam is at 213 East Fourth Street, across from Union Depot.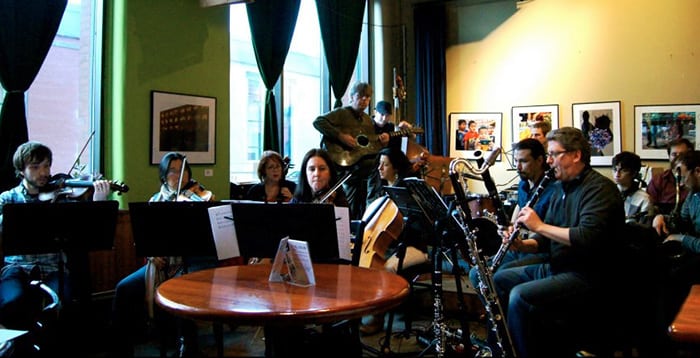 Finally, I don't want you to miss out on a great Monday show. On October 12, head back to the Black Dog for Cherry Spoon Collective. I can attest to the rock star status of some of the artists in this 15+ member group of top-notch musicians and composers. They bring with them cred ranging from the American Composers Forum to Zeitgeist, Jelloslave, Orange Mighty Trio, Coloring Time, and even one of Barbara Cohen's backing bands, Little Lizard. The music is experimental and improvisational. To see how they fit all that talent into one group—and how they fit it all into the Black Dog—is worth a trip to Lowertown. Cherry Spoon Collective plays at 7 p.m. (The Dog is still at 308 Prince Street.)
Stages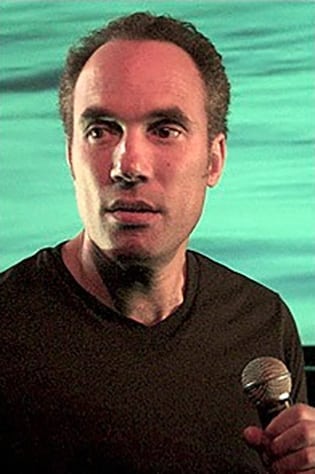 Still playing this week are Glensheen at History Theatre, Murder for Two at Park Square Theatre, Radio Fear! at the historic Mounds Theater, and Rodney King at Penumbra. I have a few additional notes about the Rodney King run at Penumbra. Thanks to the East Side Freedom Library, there will be a conversation with Roger Guenveur Smith, the performer of this stunning and poignant one-man show. The show delves into the events of 1991 and 1992 in Los Angeles and the accidental icon created in the name of Rodney King. The performance is riveting, but the issues keep us talking. Smith does a good job in his production of reassembling the social dynamics that shaped perceptions two and a half decades ago and reminding us how things have changed and how they have not changed. Smith's credits include Inside the Creole Mafia, A Huey P. Newton Story, The Watts Towers Project, Iceland, Who Killed Bob Marley?, and many projects with Spike Lee, including a memorable role in Do the Right Thing. Join the conversation at ESFL, 1105 Greenbrier Street. The conversation is Sunday, October 11, the last night of the run at Penumbra, at 7 p.m. (Additionally, after the Thursday, October 8, performance, there will be a post-play discussion at Penumbra that will give us the chance to unpack this dense and energetic work.)
Happenings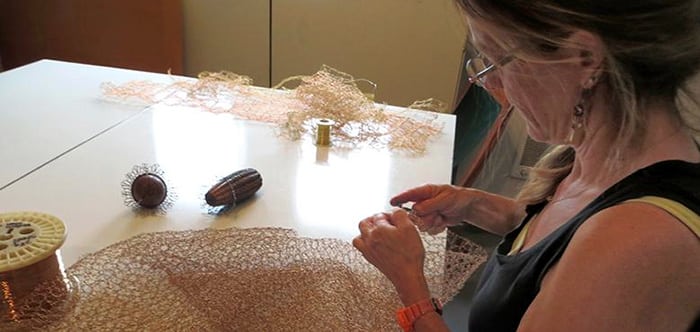 Saint Paul artist Tracy Krumm works in textiles and sculpture and has a stunning new show, "Reconciliations," at the Gordon Parks Gallery at Metropolitan State University. Her work "investigates relationships between labor, gender, duality, time and culture" as well as her personal connections to place and community. Gallery director Erica Rasmussen says, "Beyond her impeccable craftsmanship, her artwork speaks of complimentary forces and elements; masculinity and femininity, industrial and domestic, flexibility and fragility, and familiarity and foreignness." On Thursday, October 8, there will be an opening reception in the gallery from 5 to 7:30 p.m. The Gordon Parks Gallery is in Metro State's Library and Learning Center, 645 East Seventh Street in the Dayton's Bluff neighborhood.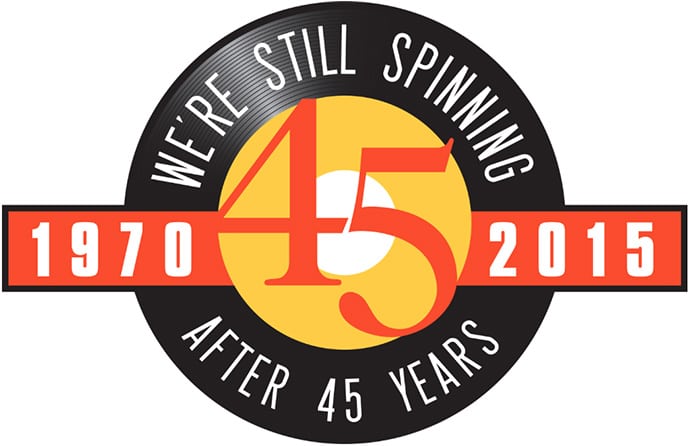 How's your record—that is, vinyl—collection? Whether you have a turntable or not, it doesn't matter. You can visit your local record shop on Thursday, October 8, to celebrate Jazz88's SpinFest Fall Edition! Jazz88 KBEM is partnering with local independent record stores, where they will be spinning rare 45s all evening to celebrate 45 years of our local jazz station playing jazz, blues, funk, soul, bluegrass, Latin, Americana, and everything else that informs American music. The participating tune peddlers include, among others, Agharta Records, 2512 University Avenue; Barely Brothers Records, 783 Raymond Avenue; and Eclipse Records, 381 North Wabasha Street. They will have the music along with refreshments, treats, and conversation. SpinFest runs from 7 to 9 p.m.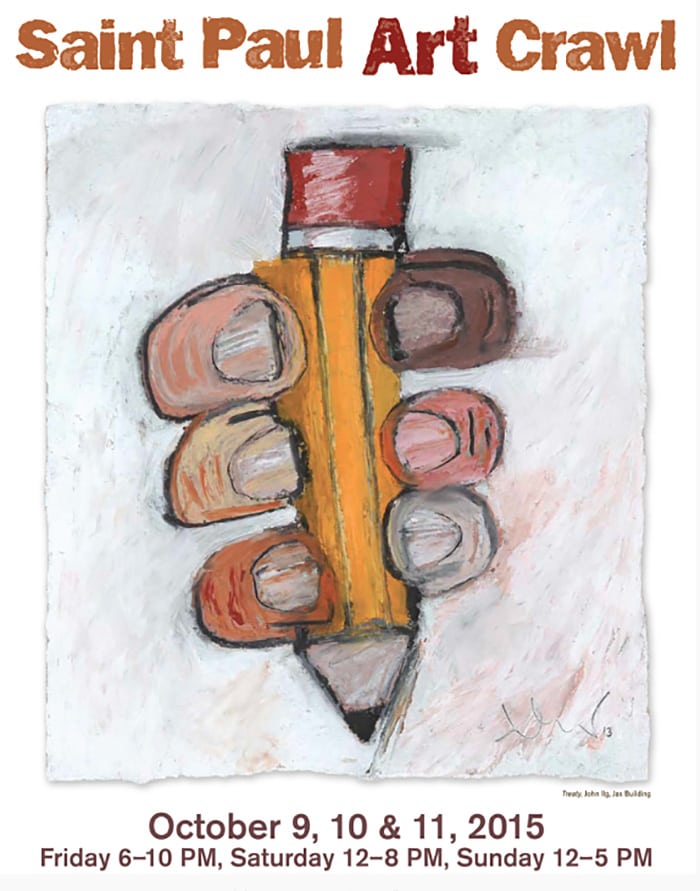 It is time again for the Saint Paul Art Crawl. The crawl is a great way to get up close to our strong and talented artist community and enjoy a great atmosphere of sight, sound, action, and flavor. Maybe you will take home a few pieces of art for your home or office or a friend, along with a few memories. This year's locations include 262 Studios, the ACVR Warehouse, Bodhi Studio, Brian Stewart Studio, Carleton Place Lofts, Central Baptist Church, the Dancing Goat Coffeehouse, Dow Building, the Empire Building, Frameworks, the Grand Hand Gallery, Interact Center for Visual Arts, J. A. Geiger Studio, the Jax Building, Jodie Ahern Fine Art, Lowertown Commons, Lowertown Lofts Artists Cooperative, Minnesota Museum of American Art, Northern Warehouse, Northwestern Building, Park Square Court, Public Kitchen + Bar, the Rossmor, Schmidt Artist Lofts, the Show Gallery, Three Sisters Eclectic Arts, Tilsner Artists Lofts, Union Depot, 11 Wells Spirits, and more.
It's not just a Lowertown thing. Visit the West Seventh neighborhood, the Central Corridor along the Green Line, Dayton's Bluff, Grand Avenue, Downtown, and a few other corners of Saint Paul. For directions, check here. The dates for the Saint Paul Art Crawl are October 9, 10, and 11, Friday 6 to 10 p.m., Saturday noon to 8 p.m., and Sunday noon to 5 p.m.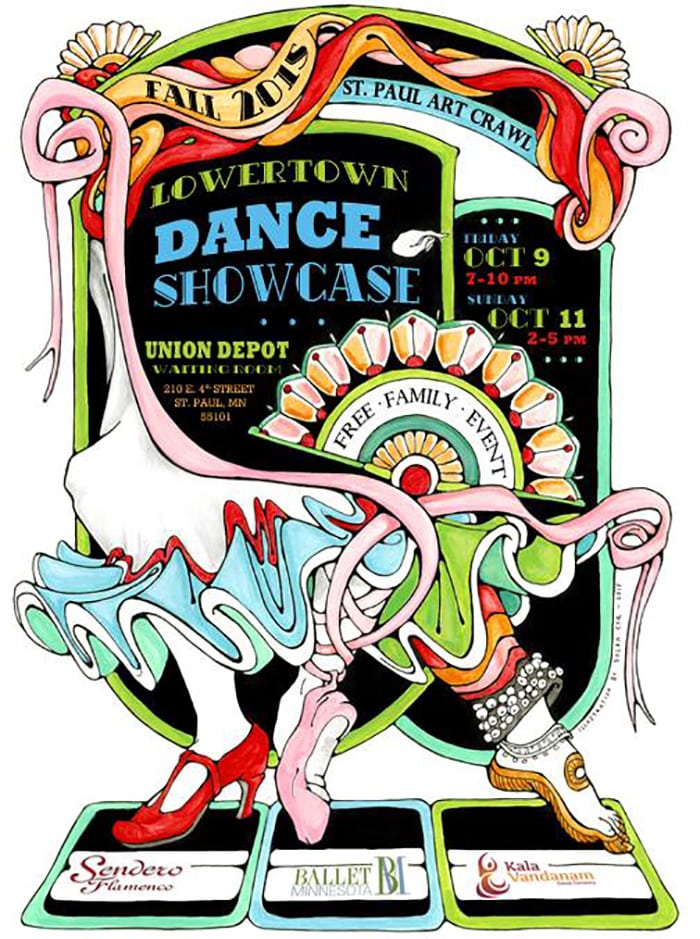 This fall's crawl hosts Lowertown Dance Showcase featuring Ballet Minnesota, Kala Vandanam Dance Company, and Studio Sendero. The showcase will be at the Union Depot Waiting Room, 214 East Fourth Street on Friday, October 9, from 7 to 10 p.m. and Sunday, October 11, from 2 to 5 p.m.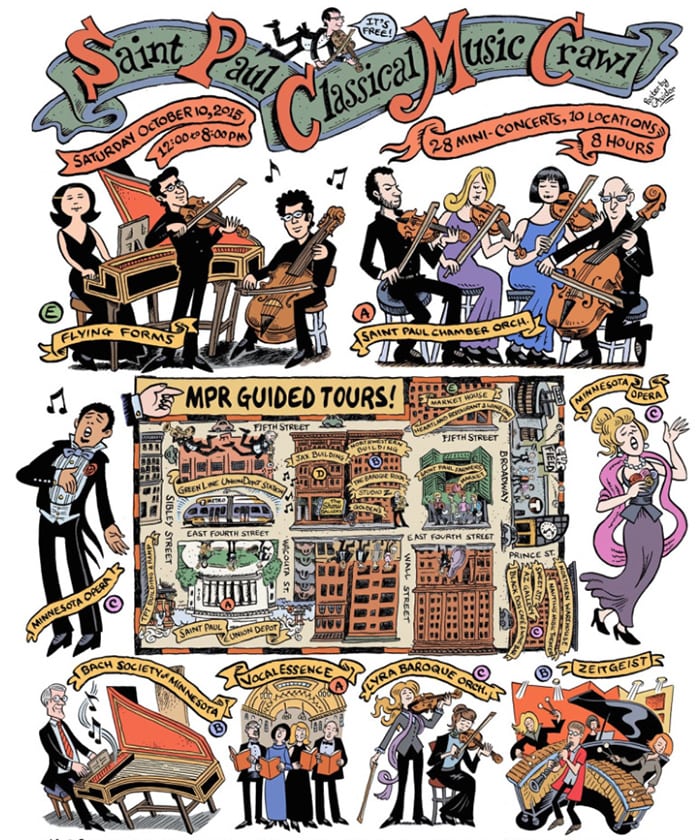 You can always hear a lot of music at the art crawls. This year, you can get more than a taste at the Saint Paul Classical Music Crawl. On Saturday, October 10, hear 28 mini-concerts at 10 locations throughout Lowertown. The Classical Music Crawl is a project created by the Baroque Room, meant to showcase the entire Saint Paul classical music scene during the Saint Paul Art Crawl. Check it out during your rounds of the crawl. We have great music here, including top-notch classical artists. The mini-classical jams are from noon to 8 p.m. Sounds great to me.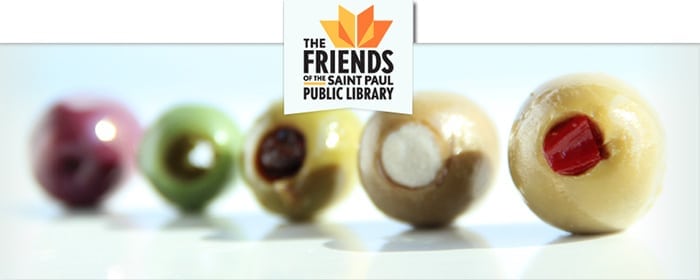 If you are not completely worn out by all of this action, or even if you are fully sated with the delight of Saint Paul culture, use your Sunday evening, October 11, to attend the Saint Paul RiverCentre for the Friends of the Saint Paul Public Library's super gala Opus & Olives! This literary evening has been called "the best book party in the country." This annual fundraising event supports the work of the Friends of the Saint Paul Public Library and will feature authors Jason Gay, Emily St. John Mandel, Homer Hickam, Paula McLain, and Al Roker, who will be on hand to sign books and greet attendees. Enjoy the martini bar, as well as cocktails and complimentary wine. Following the reception is a wonderful, chef-prepared, sit-down dinner, after which each author speaks. The RiverCentre is at 175 West Kellogg Boulevard in Downtown. The party starts at 6 p.m.—or whenever YOU get there.
But wait, there's more. If you want to know what it is, check out the Almanac arts and culture calendar. And if you act now and share this with a couple of friends, we'll triple this offer of great fun and activities in the Capital City! Have a great week and see you on the town!