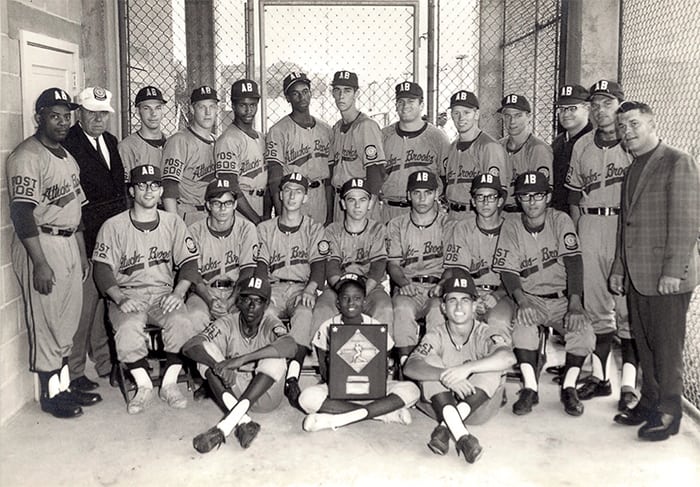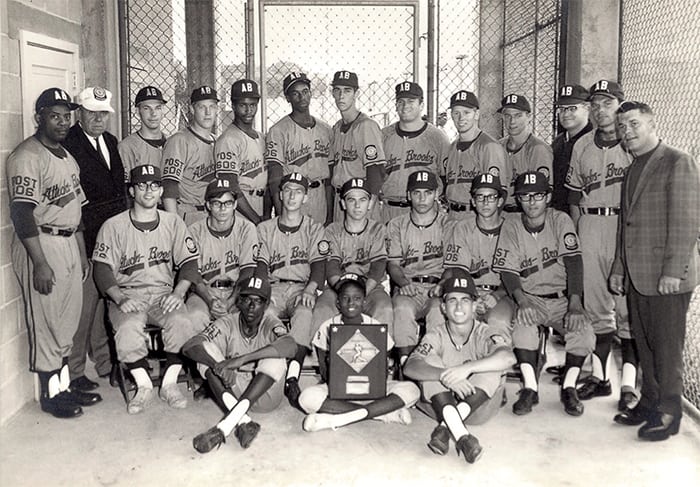 Billy Peterson has left his impression on Saint Paul baseball for
more than five decades. At seventy-three years old, he is a central
figure in the Midway Baseball program at the Dunning sports complex,
where one of the ball fields is named after him. I first met Billy
Peterson when I was eleven and attended one of his youth baseball
clinics. He was quite demanding as a coach.
During one clinic session as we did pre-workout stretches,
Coach Peterson shouted, "On the count of three, I'm going to clap
my hands. Then you're all going to do a somersault." That day, I realized:
I cannot do a somersault. I imagine that Billy Pete asked this
task of me because it is something that may be necessary when
making a difficult catch in the outfield. Needless to say, he was not
impressed with my acrobatics.
Since then, we have established a mutual respect that has led
him to refer to me as "That Smart Guy" and led me to sit down and
listen to him talk about his place in Saint Paul's storied baseball
history.
SIDNEY CARLSON WHITE: Why are baseball and coaching so important
to you?
BILLY PETERSON: Baseball's just part of my life. Like eating and
breathing. I have been playing baseball in Saint Paul since I was
ten. And I'm seventy-three. So that's a long time. Except for the
three years I was in the Marine Corps, I've been a player, a coach, or
running the municipal athletics program, which I did for twentyfive
years. When I was fourteen, we moved from the East Side to
the Dale-Selby area. There was no organized baseball that I knew
of in that area, so my dad fundraised and we got a team in the city
league. I became a player-coach.
SCW: What was your first coaching job?
BP: I got my first coaching job at Oxford Community Center, believe
it or not, as a hockey coach in 1960 after I left the Marine Corps. I
had played baseball at the University of Minnesota, but I found out
there that as much as I had played and loved the game, I wasn't
good enough to play at that level. So I started coaching baseball at
Oxford. At the U, I played under Dick Siebert and he had an assistant
named Glenn Gostick who was a fanatic about baseball fundamentals.
I learned from him that I didn't know how to play the
game right. That's what hooked me when I started coaching: Teach
the fundamentals.
SCW: So, I know that you have coached two Major League Baseball
Hall of Famers, and one who is almost sure to be there someday: Dave
Winfield, Paul Molitor, and Joe Mauer. Do you have any specific memories
from coaching them?
BP: I actually never coached Joe Mauer. He played in Midway for
one year, but he was too good so he played in a higher age bracket.
When I started coaching Winfield, he was ten, so that made me
about twenty. I didn't have much experience judging kids' playing
ability or a gauge as to how good Winfield really was. He was
better than all of the other kids, but since he was from Minnesota,
and I always heard about how rotten baseball is in Minnesota compared
to Florida, Texas, or California, it was hard to tell. When you
have kids at the starting point, when they're ten years old, you sort
of grow with them. Like with your own kids. Dave and I grew up
together, he as a player, and I as a coach. His father wasn't around,
so I was kind of like a surrogate father.
But memory-wise . . . We went to a state tournament together,
through American Legion, and were housed in a dormitory in St.
Cloud. Dave was a big joker. We were walking in the hallway and
these kids from another team walked by us and the coach started
talking. Dave, of course, jumps in, and asks, "Have you ever heard
of Dave Winfield?"
"No," replied the coach.
"You will. Remember that name. You will."
That's the story a lot of people remember. A lot of my players
were there, and everyone was listening. That's the kind of person
Dave is.
* * *
After he finishes answering, I quickly scribble something in my
notebook. Noticing I am writing left-handed, Coach Peterson asks,
"How long have you had this affliction?"
"What?" I ask, confused. Then he points at my left hand, the one
holding the pen.
"Being left-handed," he adds.
"Oh. I'm not actually left-handed. I just happen to write lefthanded."
Now at this point, most people would jump into an argument
that I am contradicting myself or that the hand you write with
dictates your handedness, but not Billy Pete. He simply replies,
"You're kiddin'."
"Nope," I reply. "I bat right-handed, throw right-handed . . ." I
trail off.
"Wow."
SCW: Do you have anything you want to share about coaching in
general?
BP: Well, I think I became a good coach after I coached my son. When
I first started coaching him, I had been coaching baseball for ten
years. I began to see the light when my older son left to play at a
higher level. One of my sons was a good athlete and the other was a good kid, so that son played too. But at higher levels, the younger
of the two got less playing time. I saw that when you coach, you
have to treat every kid like he's your own kid. But you also have to
treat every kid like he's not your own kid. You can't play favorites.
At Oxford, I coached just about every sport, and what I learned, in
baseball, football, basketball, hockey, or softball, is that no matter
what game it is, kids come to play. They might not be very good, but
they come to play. This is especially important when their parents
come, not because a parent complains that their kid didn't play, but
simply because the parents come to see their son or daughter play.
SCW: Why is having an inner-city baseball league so important?
BP: Well, I guess it's just about as important as having any other
sport in the inner city, although there are not as many African
Americans playing baseball here at any level. Back in the day,
though, forty years ago, a lot of kids' parents played baseball in
the summer, because there was nothing else to do. But today, most
of these young African American kids, their parents never played
baseball or softball.
Some people think baseball is a boring sport! Society today
moves fast, and baseball slows things down, and today's youth
aren't as attracted to the game as they once were. That's why having
the inner-city league is important, so kids can be exposed to
baseball while they're young. If kids decide at fourteen or fifteen
that they don't want to play anymore, that's okay, because at least
they got the opportunity to play.
* * *
Every summer more Billy Peterson stories get written on the field
that bears his name. Integral to the Midway Baseball program,
he is still coaching, and if you stop by the Dunning fields during
baseball season, you may see him mowing the grass. The Dunning
sports complex has many boosters, from parents of the boys and
girls who play there to baseball devotees who have been rounding
up donations at Hot Stove League banquets for years. The Friends
of Saint Paul Baseball continue to generate support, but no one is
more dedicated to youth baseball than Billy Peterson.