Saint Paul Almanac's Flashing Poetry and Art in the Twin Cities Summer Sun!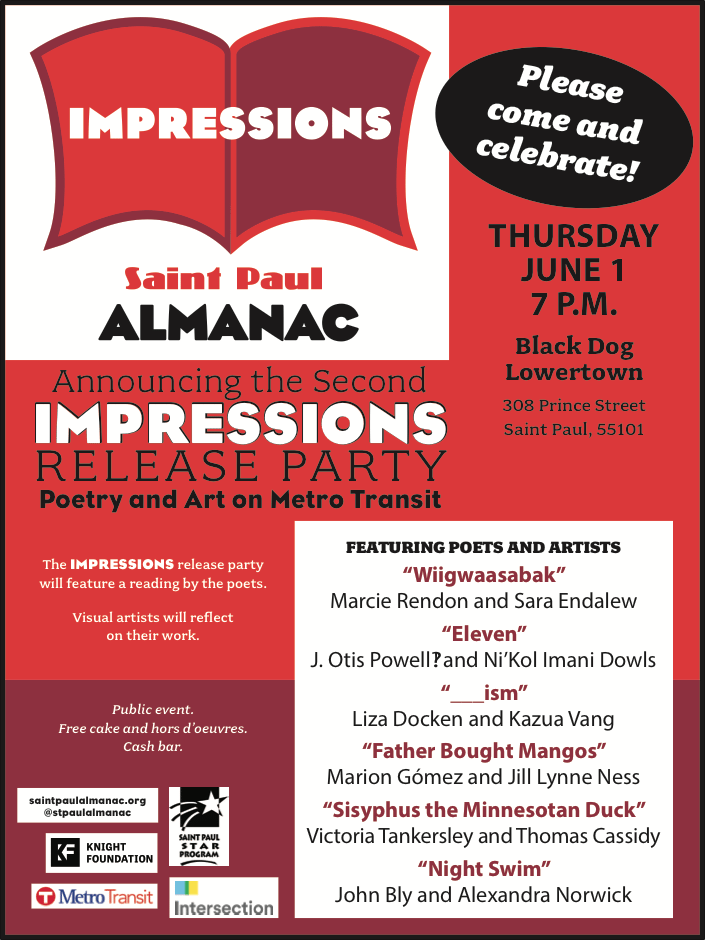 Clarence White
clarence@saintpaulalmanac.org
612-267-9036
SAINT PAUL (May 1, 2017) Meet the Summer IMPRESSIONS artists and writers on Thursday, June 1, at 7 p.m. at Black Dog in Saint Paul's Lowertown. Saint Paul Almanac is proud to celebrate six new beautiful broadsides on transit.
This is the second cohort of six local poets and six local visual artists whose work will appear on Metro Transit trains and buses. The poets will read their work and the visual artists will share their process. The following poets and artists are featured in the summer release:
JUNE 1st @ BLACK DOG CAFE
"Wiigwaasabak" – Marcie Rendon, art by Sara Endalew
"Eleven" – J. Otis Powell‽, art by Ni'Kol Imani Dowls
"_ism" – Liza Docken, art by Kazua Vang
"Father Bought Mangos" – Marion Gómez, art by Jill Ness
"Sisyphus the Minnesotan Duck" – Victoria Tankersley, art by Thomas Cassidy
"Night Swim" – John Bly, art by Alexandra Norwick
In partnership with Metropolitan Transit, Intersection, and the John S. and James L. Knight Foundation's Knight Arts Challenge, the Almanac is bringing together the work of 24 local writers and 24 local artists. Six broadsides will be published each quarter—24 broadsides for the year. In total, over 300 impressions of the IMPRESSIONS broadsides will be produced each quarter—1200 impressions for the year—inside trains and buses in the Twin Cities and on bus kiosks and train platforms. Each broadside is a unique poster of a local poet's poem combined with a local artist's work as a reflection of that poem.
The event will also feature cake from Saint Paul baker and poet Danny Klecko.
Event planning is provided by Occasions by Rosemarie.
What: IMPRESSIONS Summer Release Party
Where: Black Dog Coffee and Wine Bar,The Northern Building, 308 East Prince Street, Lowertown, Saint Paul
When: Thursday, June 1, at 7 p.m.
Marcie Rendon, White Earth Anishinabe, is a playwright, poet, performance artist, and author. She has four published plays, two nonfiction children's books, and poems and short stories in numerous anthologies. Her first novel, Murder on the Red River, was recently published by Cinco Puntos Press.
Sara Endalew was born in Addis Ababa, Ethiopia. She holds an associate degree in the fields of sculpture and painting. She moved to the United States in 2006 and has been living in the Twin Cities for the last 10 years. She has had many opportunities to show her artwork in the Twin Cities in collaboration with about a dozen local and regional institutions, businesses, and public arts organizations.
J. Otis Powell‽ is an author, mentor, performer, curator, editor, "jazz" appreciation tutor, and cultural consultant. J. Otis‽ has studied with Gloria Anzaldúa, Quincy Troupe, Amiri Baraka, Alexs Pate, Sekou Sundiata, and Yusef Komunyakaa. He worked as co-mentor and performed with Amiri Baraka for the Givens Writer's Retreat and with TruRuts Endeavors in a production of Whys, Wise, Ys. His grants and awards include being the recipient of a Loft Creative Nonfiction Award, a Jerome Travel and Study Grant, a Jerome Mid Career Artist Grant, and an Intermedia Arts Interdisciplinary McKnight Fellowship. Mr. Powell‽ is a coeditor and contributor to Blues Visions, an anthology published by the Minnesota Historical Society. His writing appears in Barefoot in the Mountains and the anthology Views from the Loft; his poetry is featured in Bringing Gifts, Bringing News, an anthology of poems from Downstairs Press; and he is a contributor to Saint Paul Almanac. A CD project titled BALM was released through TruRuts/Speak Easy Records. He was a founding producer of the award-winning Write On Radio! at KFAI-FM in Minneapolis while working as a program director and community liaison at the Loft Literary Center. He wrote, with editorial collaboration and design from Rain Taxi, a chapbook titled Pieces of Sky.
Ni'Kol Imani Dowls is a multidisciplinary artist, storyteller, and teacher. She quickly fell in love with the combination of writing and illustration. She combines her love of photography, body movement, and writing to express the world around her. Ni'Kol is a self-taught artist.
Liza Docken earned her MFA from Hamline University while living across the river in Minneapolis. She is co-author of Hinge, a conversation between poetry and prose. The moon, birds, and love inform her writing.
Kazua Vang, a Hmong American born and raised in Minnesota, is an artist, photographer, and multimanager for various productions. She received her bachelor of arts degree from the University of Minnesota, Twin Cities, with a focus on photography, printmaking, and book arts.
Marion Gómez is a poet and teaching artist based in Minneapolis. She has received a Minnesota State Arts Board grant and was one of four poets selected by Linda Hogan and Ed Bok Lee for the Loft Literary Center's Mentor Series.
Jill Lynne Ness is a writer and artist living in Minnesota. Jill received an MFA in creative writing from Emerson College in Boston in 1994. As an artist, she is self-taught and is known for her use of intense watercolor. Currently, Jill leads a creative writing group at Bridgeview in Fridley, Minnesota, a community support program for adults with severe and persistent mental illness, where she is also a member.
Victoria Tankersley moved to Minneapolis for college but fell in love with the vibrancy and sounds of the city (the ring of the light rail gives her especially warm, fuzzy feelings). She now lives in Minneapolis with her partner and puppy and, somehow, can't wait for winter to come each year.
Thomas Cassidy, aka Musicmaster, has been an active participant in correspondence art and visual poetry projects since 1973, and his artwork and written pieces have appeared in publications, galleries, and museums around the world. In the mid-1970s he co-founded the Portland, Oregon, performance troupe The Impossibilists, who were reunited in 2008 by the Oregon Heritage Commission. He hosted MTN's Access to Art series for three years, co-edited a Minnesota Center for Book Arts' vispoeologee (an anthology of visual literature with John M. Bennett and Scott Helmes), hosted open mikes for 25 years, and is on the board of Cheap Theatre. More of a stand-up poet than a word worshipper, his recent chapbooks include give up art and juiced up walnut (Musical Comedy Editions 2013). His doppelgänger has held the same real-world job with the Minnesota Multi Housing Association for 36 years. He owes his sliver of sanity to his beautiful and tolerant wife, Dawn, and their two deranged children.
John Bly likes to find, fix, and learn new things. He cooks and cleans with reckless abandon. His favorite time of year is fall, after the green drains from leaves and reminds you how many other colors were there the whole time.
Alexandra Norwick is a Ukrainian who moved to Minneapolis three years ago, starting everything from scratch on new terrain. Part of this transition consisted in going back to making art—returning to her roots, nurturing new beginnings, and exploring the nature and essence of the feminine.
Make an IMPRESSION in your home or office!
Prints of any broadside can be purchased for $20 each (including shipping and tax!) or you can buy a  bundle of all 6 broadside prints for just $100.