as interviewed by Noah Tilsen
I was born in January 1925. My father and mother, Edward and Esther Tilsen, thought it would be too difficult to get a doctor in the middle of winter in New Leipzig, North Dakota, so my mother went and lived with relatives in Bismarck, and that's where I was born. We lived in North Dakota for five or six years before moving to the West Side of Saint Paul. We only stayed there for about a year before my father got a job opportunity running a men's clothing store in a place called Iron Mountain in the Upper Peninsula of Michigan. He managed a store there and another in Wisconsin a short distance away.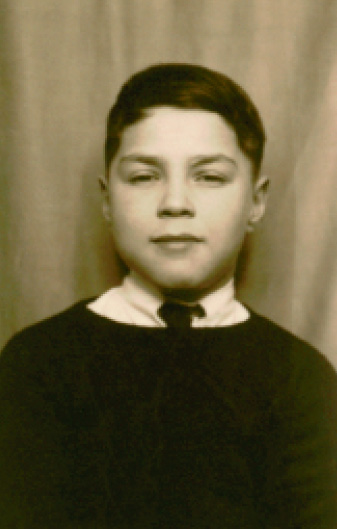 For whatever reason, I started first grade and never went to kindergarten. It was a happy time for the most part, even though it was during the Great Depression. There was a Ford plant there that wasn't operating, so Henry Ford gave his employees plots of the land he owned so they could farm it. During the winter, the men shot deer, hung them up from big trees, and when they wanted meat, they'd bring them down. I bring this up because I know there was a lot of anti-Semitism at the time, but I never experienced much firsthand. You see, my Jewish family didn't eat deer, but when I was at a friend's for dinner, their parents would be sure to check with my parents to make sure I could eat what they were cooking.
I had a collie pull my bobsled down the street during the winter. I also remember walking on top of these giant pipes that were once used to bring air to miners. All my friends and I had .22 rifles. We were only seven or eight years old, walking around with guns, completely unsupervised. It was a different time.
Eventually the people who owned the clothing stores decided they weren't making enough money and closed up shop. We moved back to Saint Paul when I was about ten years old. We lived on the second floor of a house on Dayton Avenue. I walked to Hill School, which was pretty close, but for Hebrew school, I had to ride a bike. I used to give a friend a ride on the handlebars; forty years later, we ran into each other and became golfing buddies.
Once, the neighbor below us complained about my brother Kenny and me making too much noise. I remember my father telling him he shouldn't be worried about us banging around; he should be more worried when we weren't making noise.
In sixth grade I transferred to Webster on Ashland and Grotto. I was made a crossing guard who helped the younger kids cross the streets. Then I went to Marshall, which was a junior high when I started but it became a full-on high school, so I stayed there until I graduated. I was on the football team, but my parents didn't want me to play, so I'd bike to Hebrew school where Kenny would meet me with all my football gear. I'd go practice and then switch back into my regular clothes. I don't think my parents ever found out about that.
During my sophomore year, I was having a hard time. I don't exactly remember why, but I was only going to school about three days per week. When the school called about my absences, my mother would always tell them I was a good boy and not to worry. Sometimes I'd do work for my father. While he was out of town selling siding, he would send me completion certificates to take to the bank.
I met my future wife, Joyce, the day after she turned sixteen. A friend of mine had gone to her birthday party and told me about her. We started going out soon after. She lived in Minneapolis and I used to take the streetcar to her house. I had graduated from high school but wasn't old enough to enlist yet, so I got a job at Northwest Airlines remodeling B-24s for the Air Corps. A friend would drive me by Joyce's house, and I'd throw rocks at her window until she came out. She'd tell her parents she wasn't feeling well and instead spend time with me.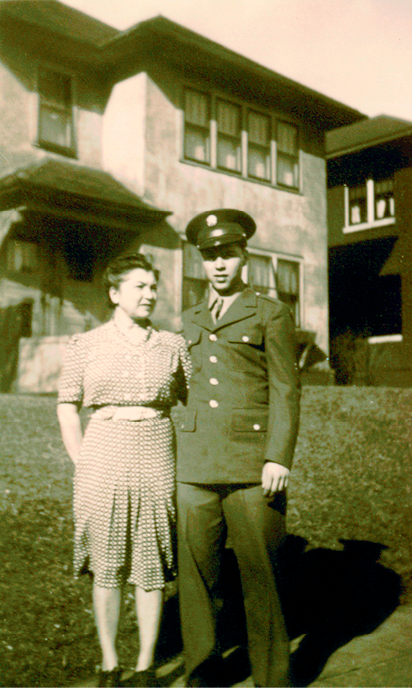 I entered the service in 1943. I was assigned to the Air Corps. They sent me to a school in the San Fernando Valley called Aerotech. It was run by civilians, so it felt like we were getting better treatment than a lot of the other soldiers. We used to pick carrots in the fields outside and play ball. On our days off, we'd hitchhike to Santa Monica and go swimming at the beach. The phones had operators back then and, since I called home around the same time each night, I got to know one of the operators so well, I asked her out on a date. She was very nice. I didn't know by talking to her, but it turned out she was Mexican American. While I was walking on the beach with her, we got surrounded by a group of Mexican American men. There were race riots going on in Los Angeles at the time, the Zoot Suit Riots. The men were giving her all kinds of hell for going out with me. Luckily, her brother was some kind of bigshot because she said if they touched me, she'd tell him. They all immediately backed off.
Not long after that, I was sent to North Carolina. We all lived in pup tents. Our team was set to go overseas after Thanksgiving. For the Thanksgiving dinner, they had all sorts of food like ham with raisins. I didn't eat any of it, but everyone who did got food poisoning, so instead of sending us off as one big unit, we were essentially put into reserves and sent out in small groups whenever they needed a replacement overseas.
Eventually, I arrived in England and worked as a mechanic. When a pilot came back, he would hand the crew chief a list of what was wrong with the plane. Before we started working on it, an armorer had to come and make sure the entire plane was disarmed so no one could shoot anyone accidentally.
The first airbase I worked in had actually trained Germans during peacetime. It wasn't very substantial, and we were rarely attacked. Occasionally, a German plane would fly by just to let us know they were there. Not too far away from us were these giant anti-aircraft guns almost entirely run by women. I remember the lights from it were so bright you could read a newspaper in the middle of the night.
Eventually, I was stationed in France. Near the end of the war, I hopped on a plane flying to Italy for the weekend, even though I wasn't supposed to. When we landed, a group of women greeted us with kisses. They bordered our squadron badges with gold stitching.
I was excited to get back to Minnesota, but there were people who had been overseas longer than me who got to head home first. I stayed on as part of the army of occupation. Even though the war was over, there were so many people to send back that it took a long time.
Meanwhile, my father had grown his business of selling siding. He knew there would be a big demand for housing after the war, so he decided to become a full-on builder, starting the Twin City Building and Improvement Company, which later became Tilsenbilt Homes Inc. He didn't have any experience, but he had amazing courage to try.
My father never hit me growing up, but he did one time after I returned home from the war. When Kenny and I were being troublemakers as kids, my mother would tell my father after work that we needed to be disciplined. He would take us into the bathroom, take his leather shaving strap, and make loud whipping noises. He told us to cry like we were being spanked. When I returned after my service, I was surprised to find my father had an attractive secretary. I touched her on the tushy once, and my father slapped me right across the face.
My oldest brother, Ben, had also served in the war on the Pacific side. He also worked with my father at Tilsenbilt, but they had a recurring disagreement. My father thought he was spending too much time at the American Legion and not enough time working. Ben was lobbying for the rights of others because black men weren't allowed to be at the same American Legion even though they'd fought in the same war. The disagreement eventually got so heated Ben decided to part ways permanently. Tilsenbilt became my primary responsibility.
I'm proud of my father and the legacy he created. He was the first person in the Midwest to build houses and sell them to both whites and blacks. Even though discrimination was technically against the law, the Federal Housing Administration and the banks wouldn't give black families any loans. My father went to Washington, D.C., and told them the banks weren't following the law. It worked. There's now a neighborhood in Minneapolis called the Tilsenbilt Homes Historic District, in part because of his efforts.